2023 Goshen College King Celebration highlights
Goshen College students, faculty and community members will focus on the life of Dr. Martin Luther King, Jr. and explore the theme "Hidden Treasures: Untold Stories," with Dr. Darryl Heller, director of the IU South Bend Civil Rights Heritage Center and assistant professor of women's and gender studies, during the campus' annual public celebration events Jan. 14-16, 2023.
Featured events for King Celebration weekend begin on Saturday, Jan. 14 at 7:30 p.m. with a faculty recital featuring H. Roz Woll and Roy Jennings. All ticket proceeds of this event will benefit the GC Black Student Union.
On Sunday morning featured speaker, Dr. Darryl Heller, will speak during College Mennonite's Sunday morning service at 9:30 a.m. That evening the documentary film, Goshen's History as a Sundown Town: Contemporary Implications will be screened with a panel discussion following.
On Monday, Jan. 17, at 10 a.m., the college will hold the 2023 King Celebration convocation, featuring Dr. Heller.
A breakout session will take place at 2:30 p.m. (see full schedule below).
These events are free and open to the public unless otherwise noted. For more information, visit goshen.edu/mlk.
Keynote speaker information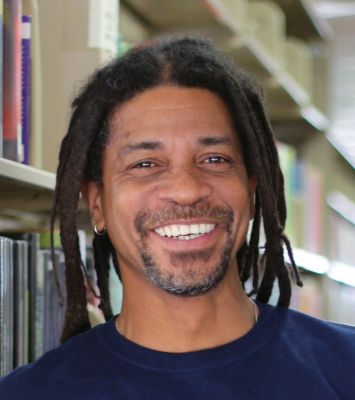 Darryl Heller is the director of the IU South Bend Civil Rights Heritage Center and an assistant professor of women's and gender studies. Since arriving in South Bend in 2015, he has brought his extensive experience as an organizer and activist to the work of the Civil Rights Heritage Center, transforming it into a vibrant hub of activity in the fight for civil rights and social justice. He also teaches and facilitates discussions on the difficult topics of the history of racism and white supremacy, race construction, and the intersection of race and gender.
After receiving his B.A. in philosophy from the College of Charleston in the early 1980s, Heller spent 20 years working in the fields of human services, community development and political activism. While living in New York City, he earned an M.A. in American studies from Columbia University. He also co-founded the Amistad Institute, a nonprofit organization with the mission to design, develop and implement educational programs for inner-city communities. Heller came to the Midwest to pursue additional studies and earned his Ph.D. in history from the University of Chicago.
---
Schedule — Goshen College's 2023 King Celebration events:
Saturday, Jan. 14, 2023
7:30 p.m., Faculty Recital: H. Roz Woll and Roy Jennings, Music Center, Reith Recital Hall
Tickets: $8 adults | $6 seniors | Free for all GC students, faculty and staff
All ticket proceeds benefit the GC Black Student Union
Sunday, Jan. 15, 2023
9:30 a.m., Sermon and Discussion, College Mennonite Church
Featuring Dr. Darryl Heller
7 p.m., Documentary Film and Panel Discussion, Umble Center
Goshen's History as a Sundown Town: Contemporary Implications
Monday, Jan. 16, 2023
10-11:30 a.m., King Convocation, Church-Chapel
Keynote speaker: Dr. Darryl Heller
2:30 – 3:45 p.m., Breakout Session, Church-Chapel
Administration and Faculty Voices: Call to Action