Eric Yake Kenagy Visiting Artist: John Hendrix
Visiting Artist: John Hendrix, Eric Yake Kenagy Visiting Artist
Public Lecture: Sunday, Oct. 23, 3 p.m.
Reception: Sunday, Oct. 23, 4 p.m.
Location: Music Center, Rieth Recital Hall
---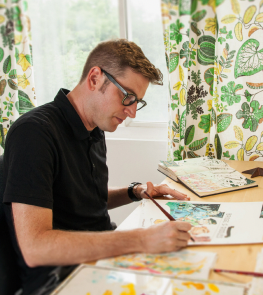 New York Times bestselling author and illustrator John Hendrix will speak about his work during a public artist talk Sunday, Oct. 23, 3 p.m., in the Music Center's Rieth Recital Hall, followed by a reception. These events are free and open to the public.
Hendrix is the 2022 Eric Yake Kenagy Visiting Artist at Goshen College.
Hendrix has written multiple books including The Faithful Spy: Dietrich Bonhoeffer and the Plot to Kill Hitler, called a Best Book of 2018 by NPR, Drawing Is Magic: Discovering Yourself in a Sketchbook, Miracle Man: The Story of Jesus and many more. His award-winning illustrations have also appeared on book jackets, newspapers and magazines all over the world.
His newest book, The Holy Ghost: A Spirited Comic, came out in 2022 from Abrams ComicArts. Hendrix is the Kenneth E. Hudson Professor of Art and Chair of the MFA in Illustration and Visual Culture program at the Sam Fox School of Design and Visual Arts at Washington University in St. Louis.
The Hershberger Art Gallery is located in the north lobby of the Goshen College Music Center at College Avenue and 12th Street in Goshen and is open on weekdays from 9 a.m. – 4:30 p.m.
The Eric Yake Kenagy Visiting Artist Program honors the late Eric Yake Kenagy, who was a gifted ceramics student at Goshen College from 1984 until his death in 1986.
About Eric Yake Kenagy
1966-1986
During his two years at Goshen College (1984-86), Eric distinguished himself as a gifted student of ceramics, an interest that began when he was a young child and developed during his high school years in Corvallis, Ore. He was exploring the possibility of advanced art studies at the time of his death. Eric left a legacy of beautiful pottery which provides us a glimpse of his potential and a hint of what might have been, had he lived long enough to mature artistically. Jack Troy, potter and art professor at Juniata College, Huntingdon, Pa., commented: "I can't think of anyone who, at his age, was so accomplished as a potter – who integrated eye, hand and heart to imbue his work with such spirit."
In this visiting artist program, Eric's family and friends wish to celebrate the creativity Eric expressed in his too-short life, and to share with Goshen College and its friends events that will inspire others to develop their own creativity. Additional gifts to this memorial are welcome.