Radio host Laura Smith to speak Sept. 13
Umble Master Class Lecture: Laura Smith
Date and time: Tuesday, Sept. 13 at 7:30 p.m.
Location: Umble Center
Cost: Free and open to the public
---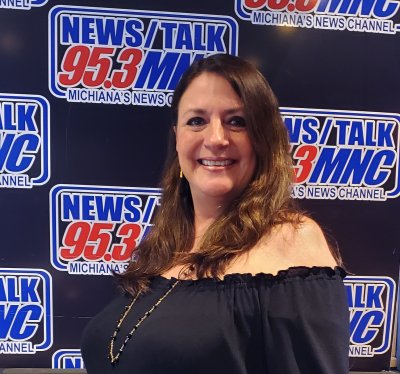 Laura Smith, a co-host of Michiana's Morning News throughout the week at 95.3 MNC and the weekly host of "The Way Home with Laura Smith," will be the Umble Master Class presenter at Goshen College on Sept. 13-14.
Smith, who moved back to Elkhart two years ago from New York City, will share highlights of her professional journey in radio and as a voiceover artist during the Umble Master Class keynote address on Sept. 13 at 7:30 p.m. in the Umble Center. The event is free and open to the public.
Smith has been a trusted voice in radio for more than 25 years, hosting popular programs such as "Living Better," "The Saturday Cafe" and "Above and Beyond" on WABC Radio in New York City and SiriusXM; she also served as program director at both stations.
During her two days on campus, Smith will also speak in several communication classes, lead a workshop and meet with students for a wide-ranging conversation over lunch.
She is currently the weekly host of "The Way Home with Laura Smith" on 95.3 FM Sundays in Michiana and daily in Greenwich, Connecticut, on WGCH, where she got her start 25 years ago. Her guests include authors, experts and luminaries, both local and global.
Smith is also a voiceover artist whose work includes serving as the voice of Geico (if you call 1-800-GEICO, she will guide you through all your insurance needs) and assisting listeners on hold at Wieland Designs in Goshen.
She has done many radio commercials, TV ads, corporate video narration, training videos and audio books; she has even been the voice of talking toys. She provides voice content in English, Portuguese and Spanish.
Earlier in her career she was a DJ on flagship stations WEBE 108 in Connecticut and 106.7 LITE FM in New York.
Smith served as an adjunct professor at the Theatre Conservatory Program at Adelphi University in New York, her alma mater. She grew up in Indiana, Brazil and Australia and then spent decades in New York. She returned home to Elkhart to be close to her family.
Previous Umble Master Class presenters have included Daniel Charles, David Dye, Carl McIntyre, Anna Deavere Smith and Renee Vincent.
The Roy H. Umble Master Class brings nationally known practitioners and experts in communication and theater to the Goshen College campus annually for events and activities that enrich and inspire students, faculty, the broader campus, and local and church communities. Roy Umble (1913-1996) was a longtime professor in speech and theater at the college