"Voices Together" exhibit coming to Goshen College's Good Library Art Gallery
Art exhibit: "Voices Together: Connecting through Art and Music"
Reception date and time: Sunday, September 18, 2-4 p.m. (exhibit opens September 11 through November 18, 2022)
Location: Goshen College's Harold and Wilma Good Library Gallery
Cost: Free and open to the public
---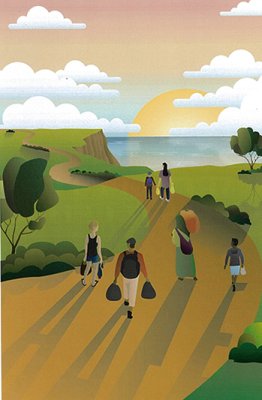 GOSHEN, Ind. – A new exhibit, "Voices Together: Connecting through Art and Music," will open in the Good Library Gallery, located in the Harold and Wilma Good Library on Sunday, Sept. 11 through Sunday, Nov. 18.
The public reception will take place from 2-4 p.m. on Sunday, Sept. 18. At 2:30, there will be comments on the exhibit by Bradley Kauffman, general editor of the hymnal; Randy Horst, of the visual arts committee; and Joe Springer, of the Mennonite Historical Library.
The exhibit consists of the original art included in the "Voices Together" hymnal, published in 2020 for Mennonite Church USA. Twelve artists are represented in 19 paintings and prints in various media. This traveling exhibit originated at Bethel College, North Newton, Kansas, and is sponsored by the Marpeck Fund and the Mennonite Amish Museum Committee of Goshen College.
The Mennonite Historical Library at Goshen College is also adding a display of historic Mennonite hymnals and tributes to Mayer Oyer, Walter Yoder and John D. Brunk earlier hymnal editors.
A booklet featuring images and descriptions of the traveling art pieces is available for viewing and download here.
The Good Library Gallery is open whenever the Library is open. See library hours.
For questions, or to arrange a group visit, contact Joe A. Springer.