Fisher leads pack of four Maple Leafs at NAIA Outdoor Track & Field Nationals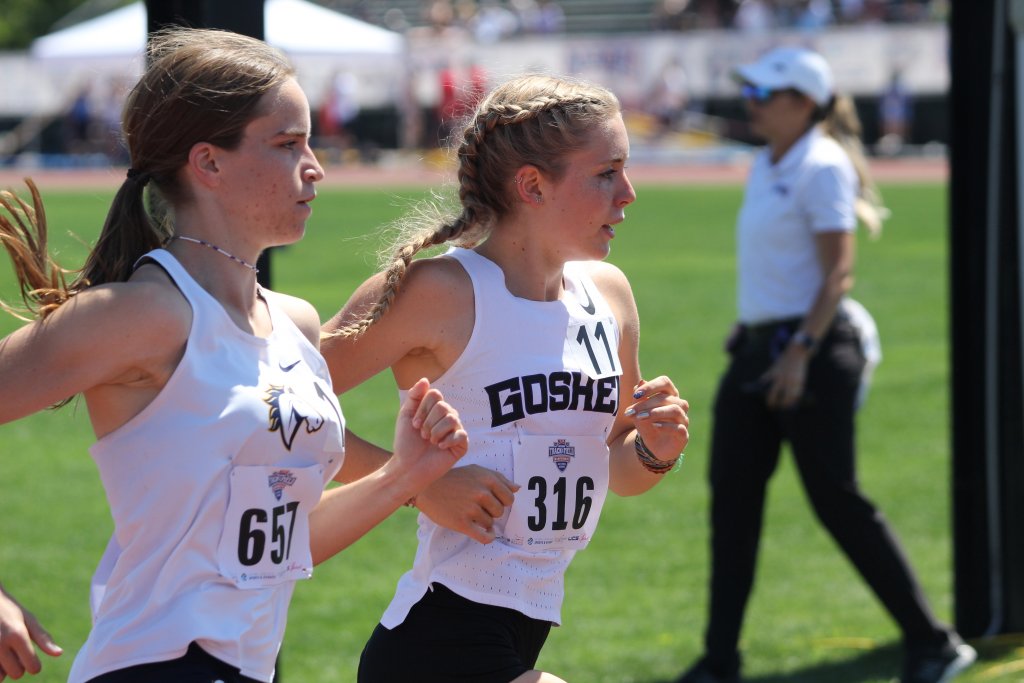 Sophomore Annika Fisher broke her school record as she competed at the NAIA Outdoor Track & Field Championships this past week in Gulf Shores, Alabama. She was one of four Maple Leafs that represented Goshen College during the three-day meet. Fisher was joined by Goshen's Jacob Gerber '22, Simon Graber Miller '22 and Teresa Ross Richer '25.
On Wednesday, Fisher competed in the first heat of the women's 1500-meter run prelims. She was in eighth place in the eleven-person field after the first 300 meters but moved up to fifth place – finishing in 4:43.11. While she didn't earn an automatic bid to the finals with a top-four finish, Fisher had the third-best time of the non-automatic qualifiers.
She ran again on Friday in the finals for the event. In that race, she beat her previous school record of 4:39.88 set earlier this season with a 4:38.80. Her ninth-place finish was just shy of earning All-American status  – it is awarded to the top eight. She was seven-tenths of a second away from that honor.
"It is a great way to end the season with a personal and program best," shared head coach Rustin Nyce. "It doesn't help resolve the feeling of just missing All-American honors, but I am proud of what she did."
Jacob Gerber had some excellent attempts in the men's hammer throw, but all three of his throws were fouls. "His second throw was almost 65 meters and would have put him in second place," shared Nyce. "But what an amazing career for him." Gerber won the hammer throw at the Crossroads League Championship earlier this month and qualified for nationals in all his years at Goshen. He holds the school record in the hammer throw.
Simon Graber Miller was unable to clear the opening height of 2.00 meters (6 feet, 6 ¾ inches) on his three attempts on Thursday in the men's high jump. "Simon didn't have the day he wanted," said Nyce after the event. "We talk about legacy, and he left one of excellence. He left the program in a better place than he found it, and we are grateful for him." Graber Miller has the school record in the high jump.
Lastly, Teresa Ross Richer competed early on Friday morning in the half marathon but was unable to finish the race. "Teresa has had a rough last week building up to the race," said Nyce. "However, she is a very disciplined person and will do great things over the next few years." Ross Richer qualified for nationals in the marathon and was the only first-year woman in the NAIA to do so. The marathon qualifiers compete in the half marathon at nationals.
With Goshen's events on Friday coming to an end, the Maple Leafs have now concluded their 2021-22 athletic season. The cross country and track teams continued to send participants to nationals, while nearly all of the teams that use win percentage saw an increase in their winning over the 2020-21 year. Visit goleafs.net for updates throughout the summer as teams prepare for the upcoming fall season.