Goshen College Communication Departments hosts third annual short film festival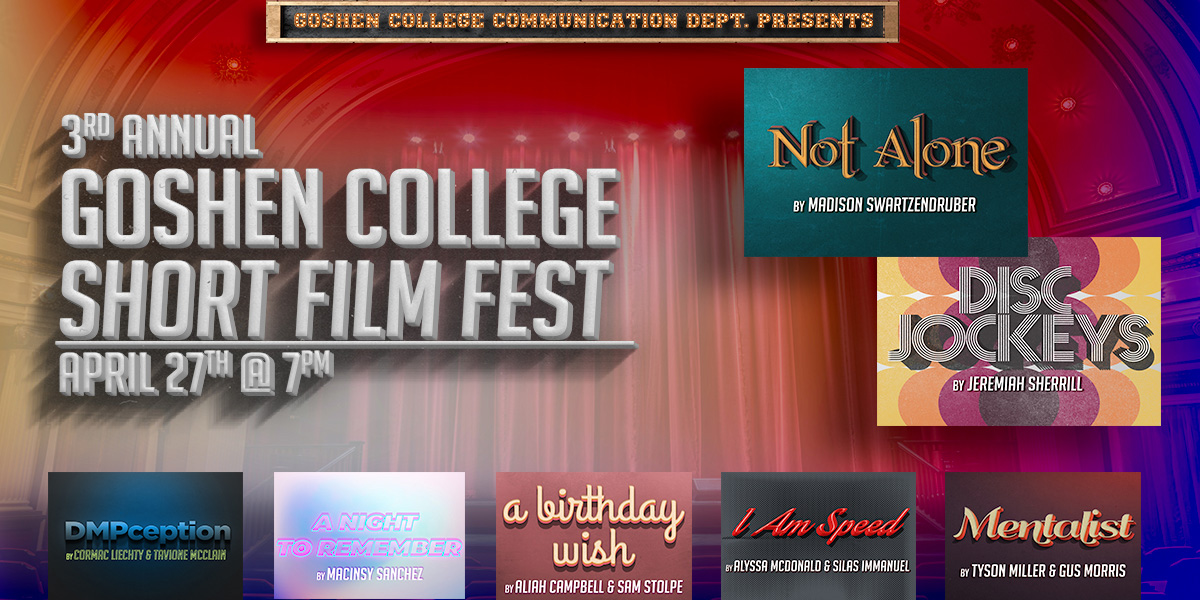 The Goshen College Communication Department will be hosting the 3rd Annual Goshen College Short Film Festival at the Goshen Theater in downtown Goshen on April 27 at 7 p.m. The event is free to the public and doors will open at 6:15 p.m.
This annual event is an opportunity for GC students from the Film Production Program to premiere short films they have been working on throughout the school year, including two senior capstone projects.
Short films premiering are:
"Not Alone" by Madison Swartzendruber, '22 film production major from Goshen
"Disc Jockey" by Jeremiah Sherrill, '22 film production major from Goshen
"DMPception" by Cormac Koop Liechty, '25 communication and art double major from Goshen, and Taviome McClaw
"A Night to Remember" by Macinsy Sanchez, '24 film production major from Goshen
"A Birthday Wish" by Aliah Campbell, '24 film production major from New Paris, Indiana, and Sam Stolpe, '24 engineering physics and film production double major from Milwaukee, Wisconsin
"I am Speed" by Alyssa McDonald, '25 broadcasting and film production double major from Murray, Utah, and Silas Immanuel, '25 film production major from Goshen
"Mentalist" by Tyson Miller, '25 communication and nursing double major form Syracuse, Indiana, and Gus Morris, '25 interdisciplinary studies major from Austin, Texas