Concert: Girl Name Tom (In-person SOLD OUT, virtual option available)
Concert: Girl Named Tom
Date & Time: Friday, Oct. 1, 2021, 8:30 p.m. EST
Location: Sauder Concert Hall, Goshen College Music Center
Cost: SOLD OUT (in-person) | Virtual Option, Individual $10, family $20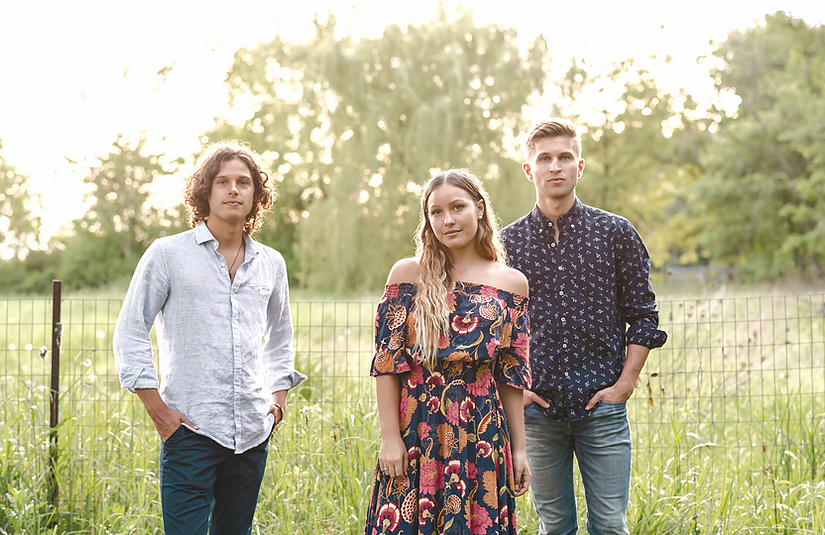 Girl Named Tom, the acoustic trio built on the palpable voice of Bekah Grace and the beautiful sibling harmony with her two brothers, Caleb and Joshua, both Goshen College graduates, will present a concert in the Music Center's Sauder Concert Hall on Friday, Oct. 1, 2021 at 8:30 p.m. EDT. The in-person concert is sold out, but a virtual live-stream option is available for $10 (individual) or families ($20). Get access.
While their original repertoire is full of variety, the acoustic instruments and sweet vocal blend put them with acoustic pop / singer-songwriter music. Their style combines the classics (Joni Mitchell; Crosby, Stills & Nash) with artists of today (Taylor Swift, The Wailin' Jennys, Adrianne Lenker).
During their first year as a band, Bekah, Joshua & Caleb drove their old minivan cross country, playing 67 shows in 27 cities. Before the pandemic ground them to a halt, they had the privilege of playing at The Green Parrot (Key West, FL), Tellus360 (Lancaster, PA), The Laughing Goat (Boulder, CO), Ocean Beach Market (San Diego, CA), camps, churches, and dozens of house shows.
Since last March, Girl Named Tom has been hunkered down in South Bend, Indiana, writing new material they can't wait to take on the road this spring! Don't miss them on NBC's The Voice this season!
COVID protocols:
Face masks must be properly worn (covering nose and mouth) at all times while inside Goshen College facilities, regardless of your vaccination status.

All patrons, staff and artists will be required to provide either proof of vaccination or a negative COVID test for entrance into the venue.

We will be offering on-site, rapid tests for patrons who are unable to get tested within 48 hours of the concert. This test will take approximately 20 minutes to complete and will cost $10 per test. If you want or need to take advantage of this option, please plan to arrive early in order to be able to enter before the concert begins.