Coach Kyle Mishler '14 trains GC All-Americans and a Paralympic gold medalist
By Patrick Webb '21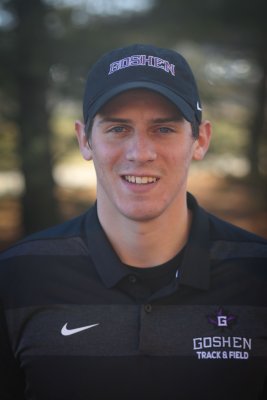 Kyle Mishler '14 keeps himself busy. When he's not coaching Goshen College's track teams, he's helping Paralympian Sam Grewe prepare for the summer Paralympic games in Tokyo.
Mishler is assistant coach of men and women's track and field, and developed his love of the high jump while on GC's track team as a student athlete. He holds the school record in outdoor high jump with 6 feet, 8 inches, and was the first-ever GC high jumper to earn NAIA All-American honors in the event.
"My time as an athlete helped me develop my love for high jump. I wanted to stick around. That's why I started coaching," said Mishler. "It was the perfect opportunity for me to start coaching and grow in a situation I was familiar with."
---
UPDATE: On Aug. 31, Grewe won the gold medal in the men's T63 Paralympic high jump, with a jump of 1.88 meters. Read more
---
Mishler met Paralympian Sam Grewe for the first time in 2015. Grewe had a family connection to GC, and he used the college's track for training. Grewe and Mishler met in the winter when Grewe was trying out the high jump. Grewe later asked Mishler to be his coach for the event.
Watch: Paralympian Sam Grewe's journey to high jumping (NBC Nightly News with Lester Holt, Aug. 7, 2021):
Grewe is a three-time world champion in T63 high jump, the Paralympics class for track athletes competing with a single above the knee amputation. Grewe is the current world record holder in the T63 classification. Grewe won a silver medal in the 2016 Rio Summer Paralympics and will compete at the end of August in the 2020 Tokyo Summer Paralympics.
To train Grewe for the Paralympics, Mishler went to Chicago and took a course to become a certified USA Track and Field coach. Mishler is certified for Level 1, the lowest level, but plans to move up to Level 2.
Mishler first focused on the basics and helped Grewe develop his form. Next, they practiced consistency, such as jumping in the same spot.
He would coach GC athletes for two hours in the evenings, then coached Grewe following GC's practice.
When Grewe went to college at Notre Dame, he worked with Mishler over the summer. Grewe has also had a chance to meet and work out with GC athletes in the weight room.
Mishler's time coaching Grewe has benefitted GC's athletes.
"I've gotten a lot better at coaching high jump, working with Sam, doing research to fix different issues," he said.
One athlete who's benefitted from Mishler's coaching is Simon Graber Miller, a junior biology major from Goshen. Graber Miller earned third place nationally and an All-American title with a high jump at 6 feet, 10¾ inches, a new GC indoor track and field record.
Mishler uses similar workouts for both athletes. He sometimes experiments by seeing if exercises that work for GC athletes work with Grewe.
"It's made me a better coach," said Mishler.