Recordings made in Sauder Concert Hall retell the history of Black composers, receive Grammy nomination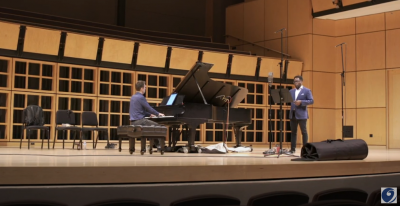 Three different albums recorded in Goshen College Music Center's Sauder Concert Hall have recently received national acclaim. Will Liverman's "Dreams of a New Day" (recorded in July 2020 at Goshen College) and Catalyst Quartet's "Uncovered" (recorded in July 2020 at Goshen College) were recently featured in The New York Times, and the Dover Quartet's "The Schumann Quartets" (recorded in February 2018 at Goshen College) was nominated for a 2021 GRAMMY Award.
The New York Times' list of albums that retell the history of Black composers
Two new recordings featuring Black composers are being used to advocate for racial equity in classical music, according to the New York Times in their Feb. 12, 2021 article, "3 New Albums Retell the History of Black Composers."
Baritone Will Liverman recorded "Dreams of a New Day" in July 2020 in Sauder Concert Hall. It is a program of intimate, heartfelt songs that portray the trials, tribulations and triumphs of the African American experience through poignant texts and expressive musical settings.
According to the New York Times:
At the heart of the album — its roster includes both living composers and older ones like Margaret Bonds and Harry Burleigh, known for his influence on Dvorak and the threading of spirituals with classical idioms — is the premiere recording of Shawn Okpebholo's 'Two Black Churches.' It is an affecting setting of poems about the bombing of a Birmingham, Ala., church in 1963 and the 2015 shooting at Emanuel African Methodist Episcopal Church in Charleston, S.C."
Also in July 2019, the Catalyst Quartet recorded their "Uncovered" project in Sauder Concert Hall, meant to showcase works from Black composers such as Samuel Coleridge-Taylor, Florence B. Price, George Walker, Jessie Montgomery and Coleridge-Taylor Perkinson.
"These composers have contributed beautifully crafted work to the repertoire but are not widely celebrated because quality recordings and performances of their music are rare or non existent," the group writes on their website.
According to the New York Times:
The Catalyst Quartet's Uncovered project began in 2018, growing from an initial idea of performing and recording a program of works by a few underrepresented composers. That quickly blossomed into something more ambitious: a series of focused surveys, beginning with music by Samuel Coleridge-Taylor.
Coleridge-Taylor, born to a white mother and Black father in Britain in 1875, wrote the pieces on 'Uncovered, Vol. 1' while he was a student at the Royal College of Music in London. "
GRAMMY Award nomination
The Dover Quartet recorded their album, "The Schumann Quartets," in Sauder Concert Hall in February 2018, and it was released on Azica Records in October 2019. The recording has received a 2021 GRAMMY-Award nomination for Best Chamber Music/Small Ensemble Performance. It comprises Schumann's three string quartets, written in 1842, which mark the high point of Schumann's development as a composer.
The Dover Quartet and Azica Records will soon be wrapping up 27 days of recording in Sauder Concert Hall, spread over three years. Their latest project is a recording of all 16 of the Beethoven String Quartets. Volume 1 has already been released and volumes 2 and 3 will follow soon.