WGCS chosen as a finalist for College Media Association Pinnacle Award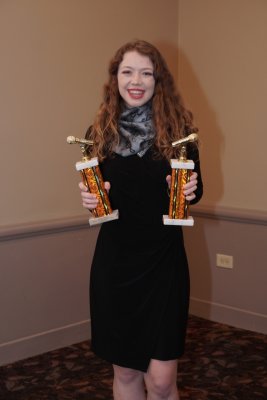 Goshen College's 91.1 FM (WGCS) The Globe has been named a Pinnacle Award finalist for Four-Year Radio Station of the Year in the broadcasting category by the College Media Association.
This is the first time The Globe has been named as a finalist for this prestigious Pinnacle Award, which honors the best college media organizations and individual work in the country. The Globe is one of five finalists for this award in the United States.
Nine students were also named as finalists in four categories for individual awards.
"I'm really proud of the Globe staff for working so hard to achieve this nomination," said Kadie Daye, a senior broadcasting major and Globe student station manager. "Having staff members that want to do good work and motivating professors to help guide us to success makes a world of difference, and the Globe wouldn't be what it is without them."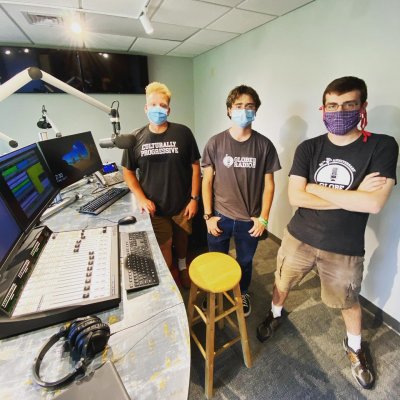 Six students and graduates were also announced as finalists for three awards under the College Broadcasters Inc. National Student Production Awards
"Our students continue to amaze me," said Jason Samuel, assistant professor of communication and WGCS general manager. "Even during a challenging year they continue to create meaningful stories that are consistently viewed as some of the best student work by our colleagues and peers from around the country. The CMA Pinnacle Awards is a new competition for us. Offering a fresh set of judging criteria with a host of new college radio stations."
Winners will be announced on Oct. 23 as part of the ACP/CMA Fall National Media Convention.
Finalists for the CMA Pinnacle Awards include:
Best Audio Talk/Entertainment Program: The Breakfast Blend, hosted by Kadie Daye, a senior broadcasting major from Valparaiso, Indiana, with Nathan Pauls, a senior communication major from Lancester, Pennsylvania; Benjamin Cotton, a 2020 graduate; Bryce Stopher, a 2020 graduate; and Tanner Camp, a 2020 graduate.
Best Audio Sportscast: The Globe Sports Report with William Troyer, a senior broadcasting major from Goshen.
Best Audio Newscast: The Globe News Report featuring Riley Friesner, a 2020 graduate, Alyson Prigge, a 2020 graduate, and William Troyer.
Best Audio Promo/PSA: The Rise of Dr. Automaton, with Jeremiah Sherrill, junior broadcasting major from Goshen.
Finalists for the CBI National Student Production Awards include:
Riley Friesner, Alyson Prigge and William Troyer are nominated for Best DJ, PSA and Newscast.
Kadie Daye, for Best DJ.
Nathan Pauls and Jeremiah Sherrill, fourth place for Best Imaging.
The Globe staff, third place for best social media presence.
About College Media Association:
The voice of collegiate media and its advisers, College Media Association serves student media pros, staff and programs with education, research and resources. CMA communicates and works with professional media organizations and education associations on the local, state and national levels. Founded in 1954 as the National Council of College Publications Advisers, CMA now has more than 700 members — the people who advise the nation's collegiate media newspapers, yearbooks, magazines, broadcast and electronic media and their staff — from coast to coast.
About College Broadcasters Incorporated National Student Production Awards:
CBI is a member-driven organization serving students and advisers of college and high school electronic media outlets. Through events, programs and a network of expertise, we provide our members with educational and professional opportunities and facilitate advocacy.
About the Goshen College Communication Department:
The Goshen College Communication Department has been recognized in the state and nation for its excellence in broadcasting, journalism, speech, film production and writing. The department has been named Indiana TV and Radio school of the year multiple times, Best College Radio station in the nation twice, Indiana Broadcasters Association Best Radio Station, Best College Newspaper in the state and many more. Students from Goshen College's Communication Program get hands-on learning opportunities with the department's co-curriculars like, The Record, PRSSA, WGCS 91.1 The Globe, FiveCore Media and Globe TV. To learn more visit www.goshen.edu/communication – www.globeradio.org – www.fivecoremedia.com