Student, alumni, take part in international virtual choir project
Virtual Event: "All of Us: Virtual Choir World Premiere
Date & Time: Tuesday, Aug. 25, 7 p.m. EST
Streaming link
---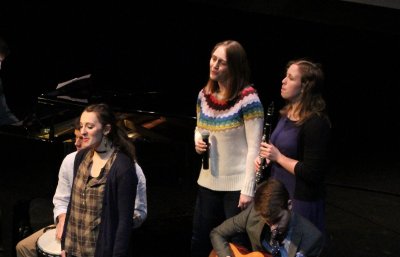 A Goshen College student and three recent alumni have participated in a virtual choir recording with Grammy award-winning Conspirare, performing "All of Us", the final movement from Craig Hella Johnson's oratorio Considering Matthew Shepard.
Janell Preheim, a senior music and secondary education major, along with Anne Buckwalter, Naomi Peters and Emily Stoltzfus, all 2019 graduates, joined a virtual choir of 477 singers from over 45 choirs across the globe for a virtual video performance of "All of Us," composed to honor the young gay Wyoming college student who was murdered and who, along with the murdered James Byrd, are honored in the naming of the Federal Hate Crimes Prevention Act.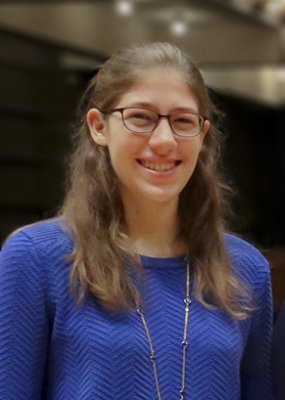 On Aug. 25 at 7 p.m. EST, Conspirare will premiere their virtual video performance of "All of Us" on their website.
In a world ravaged by pandemic, spontaneous early evening "concerts" have sprung up in neighborhoods across the United States – spirited efforts to soothe, inspire and energize – birthed as only a crisis of this magnitude can do.
Soon after the advent of COVID-19, the University at Albany approached Grammy award-winning Conspirare to collaborate in another uplifting "concert" – an international Virtual Choir of synchronized voices combined into a single performance.
"All of Us" carries a needed message of hope, with special attention given to those in our world who have been marginalized, mistreated or simply not seen. Filmmakers Elliott Forrest and Pascal Akesson created a video that speaks to this moment in time – incorporating the audio mix of 477 singers with images of current events and performance footage from scores of productions of Considering Matthew Shepard.
Following the video premiere, Johnson and Forrest will join additional participants in conversation led by University at Albany alumnus Anthony Leva to reflect on the project and take audience questions. Singers from two choirs at the University participated in the virtual performance, and the University will host the video premiere. In reflecting on singing in the All of Us virtual choir, Leva shared that "…I feel like in these uncertain times where concerts are being cancelled and everyone is being so isolated, it's really important that we find a way to connect with one another virtually, and especially to bring the gift of music and choral singing to those who might not get to experience it otherwise."
The virtual choir is comprised of those who have sung Considering Matthew Shepard alongside Conspirare in concert over the four years since it debuted, or with their own high school, university, community, professional and church choirs. Singers from around the world were moved to lend their voices to the "All of Us" choir during a time when we are apart.
"At a time when social justice and our collective humanity are so rightly in the forefront of our consciousness, I am humbled that so many singers joined this effort and that we can offer this music to audiences across the world," said Craig Hella Johnson, Conspirare Artistic Director and Conductor. "We are inspired by the power of music to change lives."