Michelle Alexander brings challenging message about the 'New Jim Crow'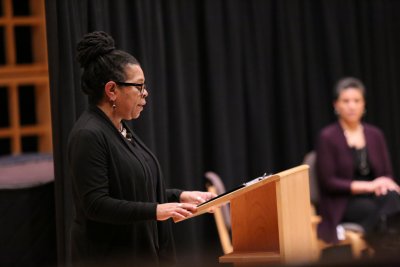 Writer and civil rights advocate Michelle Alexander, best known for her 2010 book "The New Jim Crow: Mass Incarceration in the Age of Colorblindness," spoke to a packed house in the Music Center's Sauder Concert Hall on Wednesday, Feb. 19 on the topic of mass incarceration in the age of colorblindness.
Alexander took the stage with Regina Shands Stoltzfus, professor and chair of the department of Bible and religion and peace, justice and conflict studies, who introduced Alexander before the two sat down together for an intimate conversation on race, mass incarceration and current politics.
"I am glad for the interest in the topic of mass incarceration," said Shands Stoltfus. "I hope that there will be opportunities in the future for those discussions to happen, particularly as we have the new Criminal Justice and Restorative Justice major."
---
Related: Michelle Alexander visits Goshen College – The Record
---
Alexander touched on topics of the war on drugs, police brutality, the Black Lives Matter and other movements, mass imprisonment and a "caste system" that precludes many people of color from basic civil and human rights, including the right to vote, and creates legal discrimination in employment, housing, education and basic public benefits.
She also talked about how the election of Barack Obama, which many thought would lead to a post-racial world, has actually led to a backlash of "unabashed racialism," in which white nationalist movements are operating in the open.
"I hope that today, if nothing else, we can see more clearly than we could before these cycles of racial progress followed by backlash," Alexander said. "I hope that we can see it more clearly now and have a better sense of what is required of us if we are ever to finally break free of this cycle and be able to birth a new America."
Alexander also spoke about criminal justice reformation and transformation through a racial justice lens.
"Michelle's comments toward the end of the talk about the power of restorative justice reiterates the importance of expanding our thinking about responses to offenders and victims," Shands Stoltzfus said.
The conversation closed with rounds of applause and a standing ovation from the audience, which filled nearly every seat in the 900-seat hall.
Alexander's visit was made possible by the Atlee and Winifred Beechy Peace, Justice and Reconciliation lectureship, which provides an annual opportunity for the college community to focus, re-examine and promote those ideals through a public lecture by a speaker knowledgeable and expert in peace, justice and reconciliation issues in current local, regional, national or international affairs.
Myrl and Phyllis Nofziger and the Elkhart Community Foundation also helped make this event possible.