Goshen College students nominated for third regional Emmy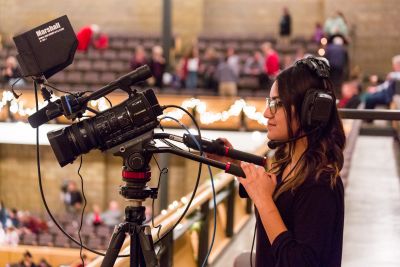 FiveCore Media, Goshen College's video production company, was nominated for a regional Emmy Award for its production of "A Festival of Carols," Goshen College's annual Christmas extravaganza, which aired in December 2018 on PBS stations in Indiana. This is the third time FiveCore has been nominated for an Emmy award in the last five years. An awards ceremony will take place on June 15 in Cleveland.
Goshen College is one of only three colleges to receive a nomination in the professional competition.
FiveCore was nominated in the Special Event Coverage category alongside WISH-TV in Indianapolis, WTHR in Indianapolis and WVIZ/PBS in Cleveland, Ohio. The Lower Great Lakes Chapter of the National Academy of Television Arts and Sciences (NATAS) includes stations and production companies from Indianapolis, Cleveland, Toledo, Fort Wayne, Erie and other outlying markets in the region.
FiveCore's production of "A Festival of Carols" involved nine camera locations, several hundred feet of cabling, 11 student crew members, three days of shooting and the efforts of several different campus departments. The result is a festive 57-minute program that captures the spirit of Christmas at Goshen College.
"This honor belongs to our wonderful Goshen College students, our producer Abby Shetler and the talented faculty, staff and students of the Music Department," said Kyle Hufford, general manager of FiveCore Media and Associate Professor of Communication. "After getting the opportunity to attend the Emmy ceremony the last few years it is evident how rare the company is that our Goshen College students and are a part of."
About the Goshen College Communication Department: The Goshen College Communication Department has been recognized in the state and nation for its excellence in broadcasting, journalism, speech, film production and writing. The department has been named Indiana TV and Radio school of the year multiple times, Best College Radio station in the nation twice, Indiana Broadcasters Association Best Radio Station, Best College Newspaper in the state and many more. Students from Goshen College's Communication Program get hands on learning opportunities with the department's co-curriculars like, The Record, PRSSA, WGCS 91.1 The Globe, FiveCore Media and Globe TV. To learn more visit www.goshen.edu/communication – www.globeradio.org – www.fivecoremedia.com