Class of 2019 encouraged to create a "world house" as global citizens at 121st commencement
Related Links:
---
---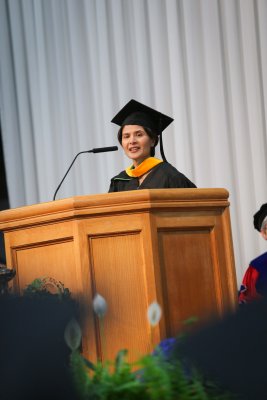 Members of the Goshen College Class of 2019 received undergraduate and graduate degrees after being encouraged to create a "world house" as global citizens by speaker Gayatri Patnaik during the college's 121st commencement on Sunday, April 28. Patnaik is the editorial director of Beacon Press and a 1990 Goshen College graduate.
The Class of 2019 consisted of 244 graduates who were awarded the following degrees: 133 Bachelor of Arts, 71 Bachelor of Science in Nursing, 4 Bachelor of Science, 21 Master of Science in Nursing as family nurse practitioners, 11 Master of Arts in Environmental Education and 4 Master of Business Administration.
The graduates were led in a processional by current and retired faculty into the packed Roman Gingerich Recreation-Fitness Center's Gunden Gymnasium for the ceremony.
In her commencement address "On Finding Meaning and Creating a 'World House,'" Patnaik reflected on how GC's commitment to global citizenship has given her life meaning.
Patnaik shared the story of Viktor Frankl, whose memoir was published through Beacon Press. Frankl was a Holocaust survivor who ended up creating a psychotherapeutic approach called "logotherapy," which suggests more than anything that we human beings crave meaning. "Isn't it remarkable that Viktor Frankl had this epiphany as a result of profound suffering?" asked Patnaik.
Frankl's story resonated with Patnaik, as her own story has involved hardship. When she was seven years old, Patnaik came to the United States. She shared about her story of meeting Ruth Esther Yoder, who took care of Patnaik and her family when they migrated to the United States from India.
"I've spent a lot of time thinking about the saying: 'Blood is thicker than water.' But by her actions, Ruth taught me a variation of this which is: 'Love is thicker than blood.'"
To Patnaik, Ruth is an excellent example of global citizenship, "because although she never left the U.S., she never let borders get in the way of loving or reaching out to people."
For Patnaik, Goshen College's commitment to global citizenship is one of the most distinctive and life changing aspects of being educated here. She went on to say how struck she is by the foresight and wisdom of GC in making international education, Study-Service Term (SST), a required part of the curriculum.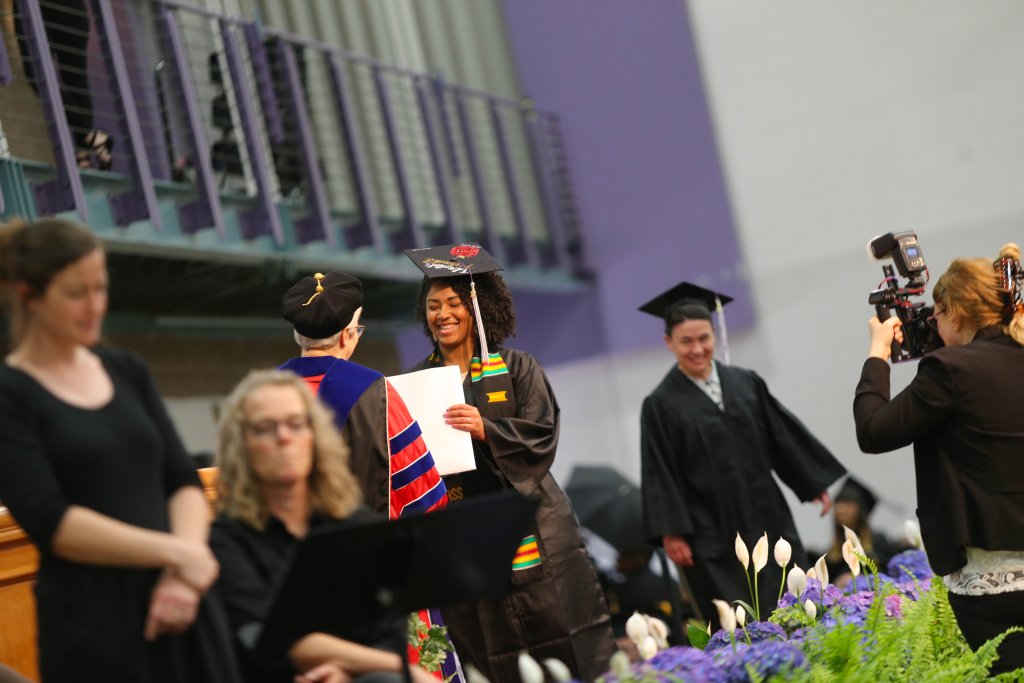 "SST has given you the tools and experience of being a global citizen and I hope you'll use it. Because being a global citizen is truly a mindset and a commitment to a vision of inclusivity. You don't have to leave the country to have that expansiveness," she said.
To the graduates she said, "I hope in the days ahead you'll reflect on Viktor Frankl's insight about gravitating towards what gives your life meaning and will use that as a guiding principle, both personally and professionally.
Patnaik began her publishing career at Rob Weisbach Books, before moving to Routledge, where she became full editor, and later to Palgrave-Macmillan, where she edited both academic and trade titles and was promoted to senior editor. She joined Beacon Press in 2002 where she edits books on U.S. history, race/ethnicity, African American studies, immigration and LGBTQ-related issues. She has worked with authors including public intellectual Cornel West, activist Charlene Carruthers, trans trailblazer Kate Bornstein and "bottom up" historian Marcus Rediker.
During the commencement ceremony, the college also honored four retiring teaching and administrative faculty: Dr. Patricia Lehman, professor of communication; Dr. Luke Gascho, director, Merry Lea Environmental Learning Center and professor of sustainability/environment; Dr. Tom Meyers, director of international education and associate academic dean and Dr. Gail Weybright, associate professor of nursing. Current and retired faculty and staff who died in the previous year were also remembered, including Dr. Debra Detwiler, professor of music, who died April 22, with a moment of silence.
After the benediction, the faculty lined the main corridor of the Recreation-Fitness Center and applauded the departing seniors. The "applause tunnel" tradition also takes place at the beginning of each academic year to welcome students back to campus.
Baccalaureate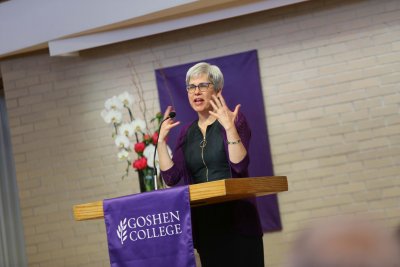 At the baccalaureate worship service in the morning before commencement, President Rebecca Stoltzfus delivered a sermon titled "Truth Written Upon Your Heart," based on Proverbs 3:1-6, and the morning's theme of "Learning to Lean on God: Whatever You Do, Wherever You Go." This was Stoltzfus' second commencement to preside over since she took office on Nov. 1, 2017. (Read the full-text of the prepared speech.)
"I am a scientist who has studied the human heart, and its physicality within our chest is real and true: its strong muscle, its electrical connections, its valves and veins and arteries," Stoltzfus said. "This is real and true. But this is also real and true: there exists a center of our spirituality, and we feel it within our chest.
"Let your life be shaped by integrity, with truth written upon your heart," she said. "Bring your courageous, creative and compassionate leadership to the communities in which you will live, work and play. Use your knowledge with the wisdom and purpose of your heart. And may these truths written upon your heart lead you to serve the world with love."
Other events during the busy weekend at Goshen College included a Graduate Celebration, which showcased the talent of the Class of 2019, a senior art exhibit, academic department receptions for graduates and their families, a nurse's pinning ceremony and an evening reception hosted by President Stoltzfus and her husband, Kevin Miller.
Class of 2019 by the numbers:
Total number of graduates: 244

21 Master of Science in Nursing degree recipients
4 Master of Business Administration degree recipients
11 Master of Arts in Environmental Education degree recipients
133 Bachelor of Arts degree recipients
71 Bachelor of Science in Nursing degree recipients
4 Bachelor of Science degree recipients

Number of graduates from Indiana: 101
Number of states represented in this year's graduating class: 22