The Record repeats as Indiana collegiate 'Newspaper of the Year'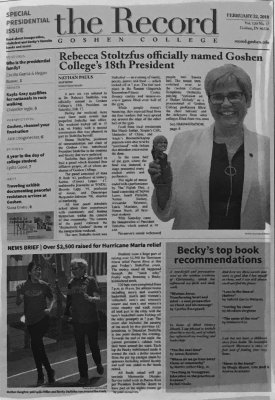 Twenty-one Goshen College students collected 34 awards at the Indiana Collegiate Press Association's (ICPA) annual convention on March 30, as The Record was named the "Newspaper of the Year" for the second consecutive year in the college division.
This is the third time in four years that The Record, which publishes a weekly print edition and competes against schools across the state with enrollment under 3,000, received the top billing.
The awards recognized Record staff from the spring of 2018, when Emily Kauffman, a 2018 interdisciplinary studies graduate, served as editor in chief, and the fall of 2017, when Kristin Troyer, a senior public relations major, was editor.
The Record confirmed its bona fides in covering several major news stories, including the arrival of a new college president, Rebecca Stoltzfus, and the withdrawal of plans to build a detention facility for the U.S. Immigration and Customs Enforcement.
Abigail King, Nathan Pauls and Kristin Troyer took first place for best continuous reporting of a single story for what the judge called "solid, consistent coverage of the new president and her mission to move the school community forward."
Siana Emery, meanwhile, took first place for a breaking news story about CoreCivic's decision to terminate plans to build an ICE facility in Elkhart County. The judge noted: "The concerns of the local community are well explained, and the story offers a lucid portrait of the county leadership."
The other first-place awards included:
Dillon Hershey, best feature photo, for "painting a picture of hope" in covering the 40th anniversary of the Umble Center;
Riley Friesner, best feature story, for a profile of Goshen College's own "squirrel whisperer," Jo-Ann Brant, professor of Bible and religion and former interim academic dean;
Dillon Hershey, for a photo of the convocation walkout led by the Intercultural Coalition of Goshen College;
Dillon Hershey, for best informational graphic;
Abigail King, for a non-deadline news story on reductions in faculty and staff at the college;
Tabitha Immanuel, best opinion column, for a piece entitled "My own brand of feminism";
Allyson Prigge, best sports feature, for a portrait of the O'Neal twins in the wake of Caitlyn's injury;
Siana Emery, for a sports news story on Justin Gillette, an All-American runner at the college who was nearing 100 marathon victories as a graduate;
Juan Perez, best sports photo, for "capturing just the right angle and moment when a runner pulls from the pack" in cross country.
Sandra Camarillo, Dianna Campos, Siana Emery, Dillon Hershey and Kristin Troyer for best overall design;
Kristin Troyer, for best special section front page;
Staff, best pull-section, for a package on the 2018 midterm elections;
Second-place awards included:
Brandon Roe, for an editorial cartoon;
Kristin Troyer, for an entertainment column entitled "Nebraska: It's not for everyone – especially kangeroos";
Olivia Smucker, for "a thoughtful analysis" of the peace play in the fall;
Kristin Troyer, for best front-page design and best informational graphic;
Olivia Copsey, for a news photo of Rebecca Stoltzfus receiving the traditional presidential dunk in the fountain after the opening convocation;
Sandra Camarillo, Dillon Hershey, Kristin Troyer, Jill Steinmetz and Bryce Yoder for best overall design;
Kristin Troyer, for best special section front;
Christi Sessa, best sports column, for a playful critique of a campus sign that prohibits skateboarding;
Nick Yutzy, best sports feature, for a profile of Aleksander Rabadzhiev, a volleyball standout from Bulgaria;
Kristin Troyer, for best sports page.
Third-place awards included:
Siana Emery, for a news series on the anniversary and review of Study-Service Term;
Hannah Hostetter and Katie Yoder, for an editorial cartoon;
Kristin Troyer, for an entertainment story about the arrival of the gamelan instrumental ensemble from Indonesia;
Juan Perez, for a photo of Nimoy Vaidya in training;
Dillon Hershey, best photo essay, in covering the winter choral concert;
Kory Stoneburner-Betts, for a review of the Yamato drummers at Sauder Concert Hall.
"We were especially pleased to see our contributions in print recognized during a year in which we redoubled our investment on digital platforms," said Duane Stoltzfus, professor of communication and adviser to The Record. "The staff members are committed to excellence in storytelling, whether in print or online, in text or image."
The Record received 78 points to finish in first; The Andersonian of Anderson University took second, with 40 points; and The Bachelor of Wabash College finished in third, with 26 points each.