SST campus conference looks at past, present and future of study abroad
Goshen College hosted a two-day conference March 5-6, 2019, Titled "Global Education for All: Renewing Our Vision," examining the history and considering the future of the college's transformative Study-Service Term (SST) program through panels, workshops, lectures and more.
"SST has been at the heart of the general education program at Goshen College for 50 Years," said Tom Meyers, director of international education and associate academic dean, who will retire this year. "The program has allowed our students to move out of North America and to learn to know people and cultures in 24 countries in Africa, Asia, Europe and Latin America. For many, SST is the beginning of a lifelong quest to better understand the world beyond our borders."
» See photos from the conference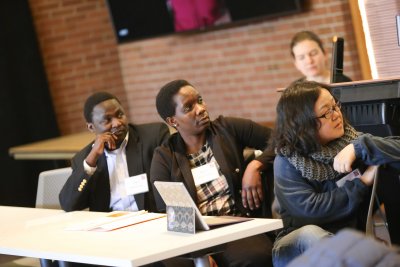 The conference is a direct outcome of last fall's search conference, a two day intensive retreat in which 33 GC faculty, administrators and students explored the question "How can we strengthen Goshen College's international education core, including SST, to make it more effective, engaging and possible for our students in the current global context?"
"I am excited about the momentum that was created across campus - students, faculty, staff - to support a re-visioned program in global education," said Jan Bender Shetler, incoming director of international education and one of the conference organizers. "I am deeply grateful for everyone who participated, presented and worked to make it happen."
Working groups from the search conference presented their ideas during conference workshops, including ideas for making a global education, once again, accessible and effective for all students. Conference leaders collected feedback that will lead to proposals for change.
"I feel like we got a lot of affirmation for the changes that we are working toward to make SST more accessible for everyone in different forms, some short term and some domestic," Shetler said. "All of the sessions were well-attended as far as I could tell and got good feedback."
Global education for all
Goshen College President Rebecca Stoltzfus opened the conference by noting changes in the student body, faculty, finances and the global landscape since the program started in 1969.
"This year, as we celebrate the past 50 years of SST, we have also been imagining its future," Stoltzfus said. "I hope that through this conference we will continue to think boldly and creatively about the future of SST in the context of our unyielding commitments to global citizenship, excellent teaching and adventuresome learning."
The conference began with a plenary lecture by 1987 Goshen College alumna Elaine Meyer-Lee, associate vice president for global learning and leadership at Agnes Scott College, who spoke about "The Value and Pedagogy of Global Learning for 21st Century Students." She spoke about her own experience, national study abroad trends, global learning outcomes, why global learning matters, and Goshen in a national context.
"Increasing recognition of the many positive outcomes of global learning for individual students - including intercultural competence, academic achievement and career marketability - means that there can be great benefits for colleges that stand out by committing deeply to providing it," Meyer-Lee said.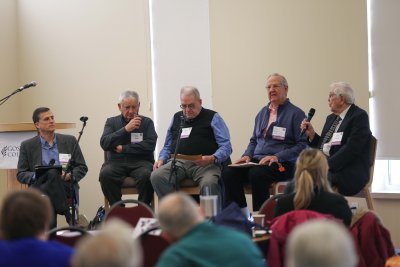 On Wednesday morning, following a light breakfast, a panel of former SST leaders and international education directors discussed significant moments from SST. The panel included Arlin Hunsberger, former director of international education (1972-1987); Dan Hess, former SST leader and professor of communication; Tom Meyers, director of international education (2003-2019); Hank Weaver, former director of international education (1968-1972); and Mario Wenger, former SST leader and professor of German.
During an all-campus convocation, which included a performance by the Women's World Music Choir, six students and three professors spoke about SST, including research about the program and reflections from their experiences.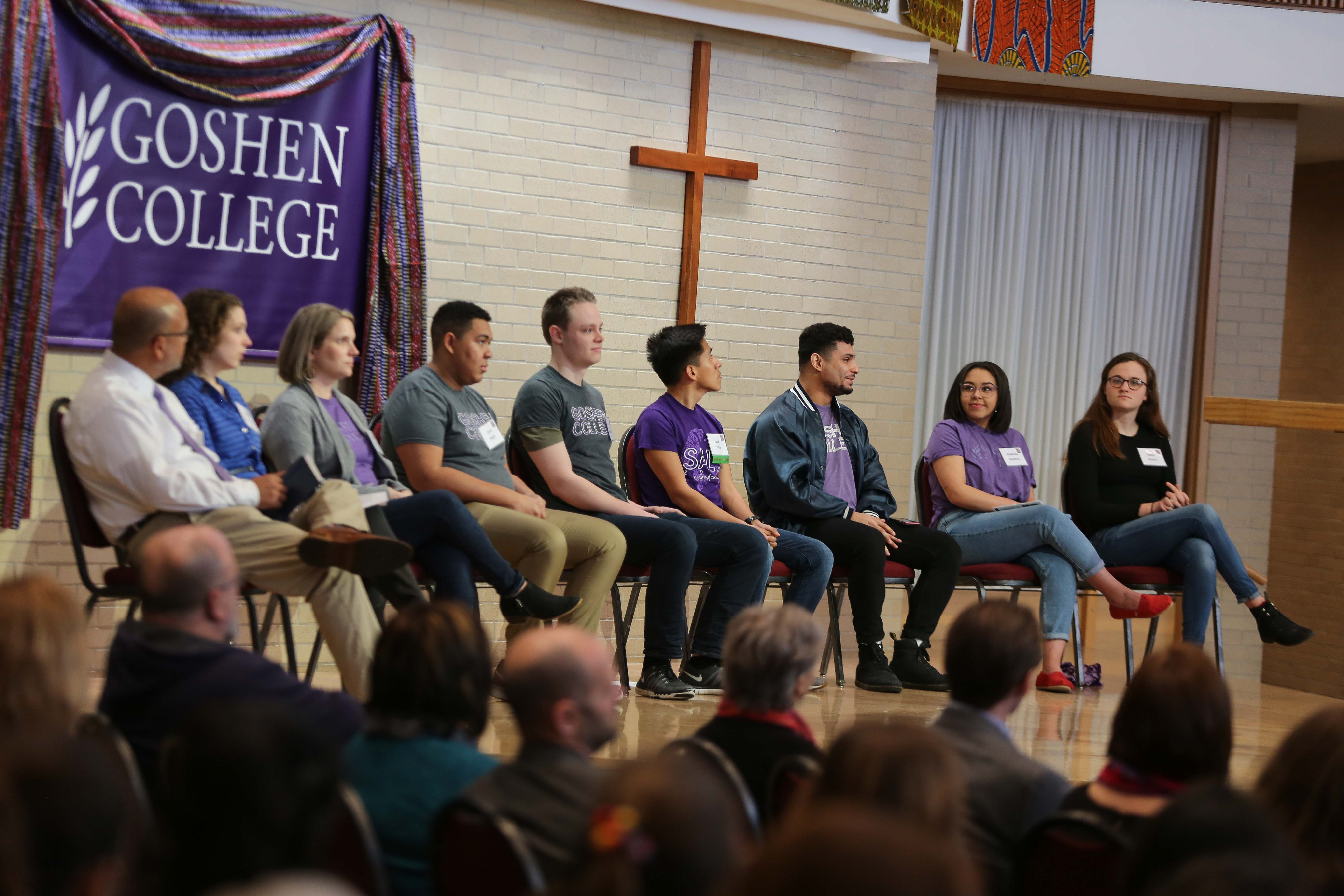 Fifteen workshops took place throughout the day examining Goshen College's SST program. Former SST leaders, students and country partners spoke on panels, and students and faculty presented on topics such as financial issues, pre- and post-SST processing, making SST more environmentally sustainable, safety and support, and experiences of international students and students of color on SST.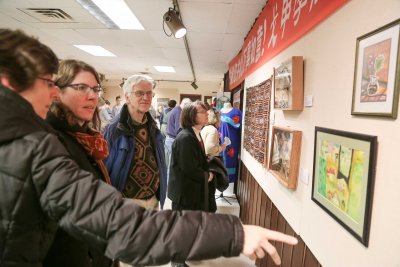 A reception took place for the opening of an art exhibit, titled "Brought Home: Objects and Stories from 50 Years of SST." The exhibit will be on display through May 19, and contains artifacts that students and faculty leaders acquired during their SST terms. It offers a wide variety of fine art and folk art, including paintings, textiles, toys, carvings, costumes, jewelry, ceramics, baskets, masks and metalwork.
Closing thoughts
1990 alumnus Ron Krabill, associate professor in the interdisciplinary arts & sciences program at the University of Washington Bothell, provided a closing lecture titled "Universal Design, Radical Reciprocity and Global Citizenship." He related his own experience leading study abroad programs and challenged Goshen College to embrace the ideas of universal design - designing environments or tools that can be utilized by everyone, regardless of ability - and radical reciprocity - finding more mutual benefits between the college and countries that host SST groups.
"As the student body of Goshen becomes more diverse, and as some of the existing forms of SST become less unique vis-a-vis other schools, a deep commitment to thinking about  inequities locally and globally, at home and abroad, interpersonally and internationally, could become a central defining feature of what gives SST its magic," he said.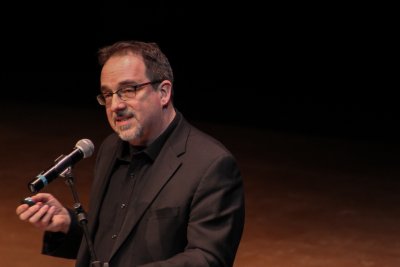 "My hope is that universal design and radical reciprocity can become touchstones that help in some small way as Goshen navigates the future directions of SST, keeping at the fore its original questions of equity, difference, power and privilege on a global scale."
Earl Kellogg, professor emeritus and former associate provost for international affairs at University of Illinois, a higher education consultant and member of the Mennonite Church USA Executive Board, served as a listener for the conference. Following the closing plenary address, he noted more than a dozen themes that he heard arising from the workshops and lectures.
"I really appreciated the fact that there were faculty and student partnerships here," Kellogg said. "I appreciated the analytical approach taken… I thought there was a good balance between anecdotes and stories, and analytics and data presented. You were pioneers in this 50 years ago, but there are many institutions now doing the same kinds of things, it's time to start thinking about the future."
President Stoltzfus closed the conference by praising the past 50 years and looking ahead.
"This is history in the making," she said. "I was so moved and humbled listening to the founders talk about 'that moment.' Now it is in our hands, and I feel humbled and inspired and informed and challenged, and encouraged by the participation and energy of our students… and that we can make history moving forward, as the founders of SST made history 50 years ago. Let the next 50 years begin."