GC faculty appointed to new leadership positions
The Goshen College Dean's Office has announced the appointment of Dr. Beth Martin Birky, professor of English, as the next associate dean and Dr. Jan Bender Shetler, professor of history, as the next director of international education.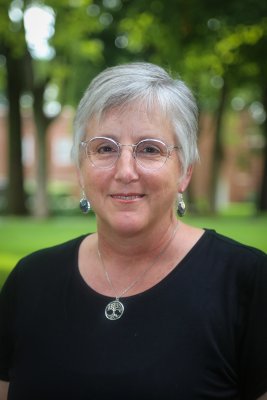 Dr. Beth Martin Birky
Beginning July 1, 2019, Birky will support the work of the academic dean, serving as representative for the Dean, as representative for major scholarship agencies and as a member of the crisis management team. In addition, she will be responsible for handling student grievances, academic dishonesty cases and petitions for readmission. She will be the academic adviser for interdisciplinary studies students and coordinator for undergraduate research and grants.
Birky is a 1983 Goshen College graduate and holds a master's degree from Arizona State University and a doctorate from Loyola University Chicago, with a focus on 18th-century English fiction.
During her time at Goshen College, Birky has chaired the English department (2001-2006, 2008-2012) and directed the women's and gender studies (2001-2006, 2007-present). She has also held a variety of administrative positions: writing center director (1996-2001), summer housing coordinator (1998-2000), general education director (1999-2003), humanities division co-chair to academic affairs (2003-2006, 2009-2011), faculty chair (2005-2006), interim associate academic dean (Spring 2007), faculty advocate (2015-2017) and Title IX deputy coordinator (2017-present).
"Beth was selected for her experience in administration, systems thinking and commitment to serving students and faculty," said Ann Vendrely, vice president of academic affairs and academic dean. "I look forward to working with her to support student and faculty needs with appropriate programs and services."
Participants during the interview process affirmed Birky's ability to "blend big picture ideas with attention to detail" and that she demonstrates a deep understanding of Goshen's culture and history.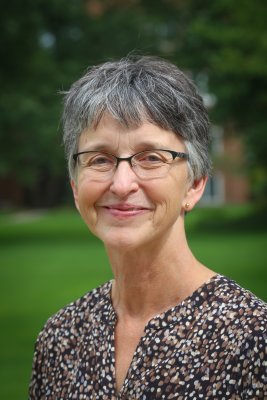 Dr. Jan Bender Shetler
As director of international education, Shetler will be responsible for all aspects of Goshen College's international education programs. She brings extensive experience living abroad and leading units in the college's Study-Service Term.
"Jan is providing leadership to the revision of the Study-Service Term that is happening this academic year, so it is a natural fit for her to continue with the implementation of new models and ideas as the next director of international education," Vendrely said. "I look forward to working with Jan to strengthen this distinctively Goshen program."
Shetler's research is on oral tradition, social identity and landscape memory in the western Serengeti, Tanzania. Before teaching she worked 11 years for Mennonite Central Committee doing community development in Ethiopia, the Congo and Tanzania. She and her husband, Peter, have led Study-Service Term units to Ethiopia (Spring 2005), Tanzania (Spring 2008) and Senegal (Summer 2016).
Shetler is a 1978 Goshen College graduate and holds a master's degree and doctorate from the University of Florida.
Shetler will replace Tom Meyers, who will retire after serving in that role for the past 15 years. She will officially begin this role July 1, 2019.