GC again named best school in Indiana for social work majors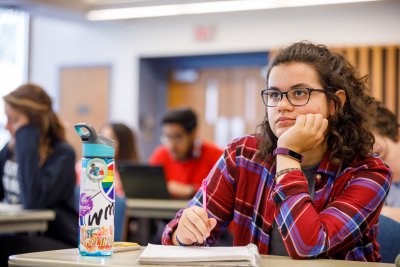 For the second year, Goshen College is the top college for Social Work majors in Indiana, according to Zippia, a website that provides career information and tools for professionals across various industries.
At Goshen, social work majors find many opportunities on campus and in the community, including a mandatory senior internship. Through coursework and supervised practice experiences, social work majors develop the skills needed to succeed in graduate school or the professional world of social work.
More than 90 percent of GC social work alumni in graduate school have been granted advanced standing in their programs, and 94 percent of GC social work majors achieve the program's competency benchmarks.
According to alumni surveys, 97 percent of social work alumni are satisfied or very satisfied with their undergraduate education, and in recent years, every single social work graduate who sought employment was employed within four months of graduation.
7 BEST COLLEGES FOR SOCIAL WORK MAJORS IN INDIANA: (Zippia.com)
Goshen College
Ball State University
Manchester University
Indiana University-Purdue University-Indianapolis
University of Indianapolis
Saint Mary's College
Indiana Wesleyan University-Marion
The Zippia ranking looks at the following data from the NCES (National Center For Education Statistics) and College Scorecard data from ED.gov to understand what Social Work departments offer the best career opportunities:
Career Results

Mean Earnings After 6 Years
Mean Earnings After 10 Years
Ratio of people working to not working after 10 years

Social Work Emphasis

Percentage of Graduating Class That Are Social Work Majors (Larger the better)

School Performance

Admissions Rate (More selective the better)
Graduation Rate
Average Cost Of Attendance (Lower is better)
Median amount of debt