International gifts from Haiti and Indonesia on display at Goshen College
Exhibit: Haitian Arts: The Hunsberger Collection and the Nyai Oyer Gamelan
Reception Date and time: Saturday, Oct. 6 at 5:30-7 p.m.
On display: Sept. 23 to Nov. 11, 2018
Location: Goshen College Music Center's Hershberger Art Gallery
Cost: Free and open to the public
---
Works from the Arlin and Naomi Hunsberger Haitian Art Collection, along with the Nyai Oyer Gamelan, a large, traditional, Javanese instrument, will be on display in the Goshen College Music Center's Hershberger Art Gallery from Sept. 23 to Nov. 11, 2018, with a reception during Homecoming Weekend on Saturday, Oct. 6 at 5:30 p.m. The exhibit and reception are free and open to the public.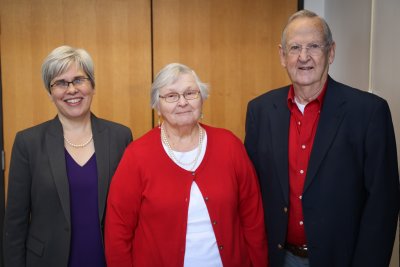 In 1962, while Goshen College Director Emeritus of International Education Arlin and Naomi Hunsberger '55 were working in Haiti with Mennonite Central Committee (MCC), they became interested in the local art. As they became familiar with local artists and galleries, this interest turned into a passion, feeding a desire to learn more about a country that they had come to love.
Over the course of 18 years in Haiti, including multiple MCC assignments and five stints as Study-Service Term (SST) leaders, they amassed a collection with more than 90 pieces of art, thought to be one of the largest in the country.
Several years ago, the Hunsbergers pledged to donate their entire collection to the college. Following the exhibit, the collection will find a permanent home in the Union Building, which will begin undergoing major renovations this fall, in part to house the collection.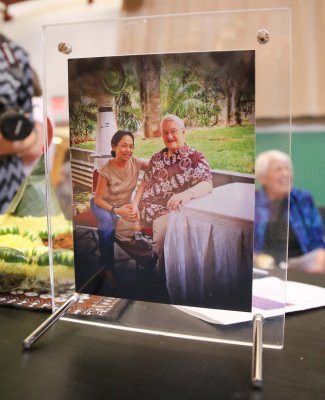 The Nyai Oyer Gamelan was gifted to Goshen College by the late Duane Gingerich '69 and his wife, Reti. It arrived on campus this summer, with Gamelan masters from around the country visiting for its dedication in July.
Gingerich, a 1969 GC graduate, spent the last 15 years of his 26-year legal career in Jakarta as an international partner with a global law firm. Though he passed away in Feb. 2016, his wife, Reti, has worked with the college to see her husband's dream to gift his alma mater a Gamelan come true.
Gingerich was motivated to donate the gamelan in honor of professor emerita of music Dr. Mary Oyer, with whom he had taken The Arts class during his time as a student at GC. Oyer was present and the guest of honor for the dedication. The gamelan's official name is "Nyai Oyer Gamelan" which translates to "Sister Oyer Gamelan."
The word "gamelan" comes from the Javanese word "gamel," meaning to strike or hammer. Gamelans typically feature a variety of instruments similar to xylophones, drums and gongs. The rhythmic music created is very spiritual in Indonesian culture and often includes supplementary, symbolic dancers and vocalists.
The Hershberger Art Gallery is located in the north lobby of the Goshen College Music Center at College Avenue and 12th Street in Goshen, Indiana and is open on weekdays from 9 a.m. – 4:30 p.m.