Donald Sinta Quartet to perform at Goshen College
Rieth Chamber Series: Donald Sinta Quartet
Time & Date: Friday, Sept. 28, 2018 | 7:30 p.m.
Location: Rieth Recital Hall, Music Center
Tickets: $16 (Buy tickets online)
---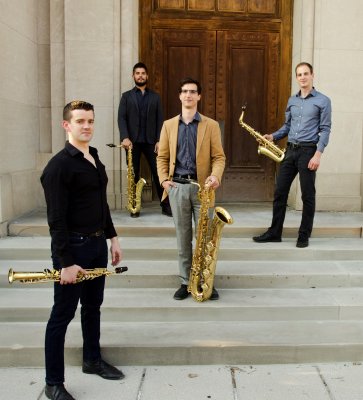 The Donald Sinta Quartet, Senior Wind Division Gold Medal winner at the 2018 Fischoff Competition, will perform the opening concert in the 2018-19 Rieth Chamber Series on Friday, Sept. 28, at 7:30 p.m. in the Music Center's Rieth Recital Hall.
The Donald Sinta Quartet has achieved great renown internationally for its recitals, concerto performances and championing of a cutting-edge repertoire. Hailed as "…a tight-knit ensemble exploding with power and virtuosity and an un-concealable ambition to connect with its newly found listeners" (Boston Musical Intelligencer), the quartet performs entirely from memory, which strengthens an already palpable connection with its audiences. The quartet is named after the group's mentor and legendary University of Michigan Saxophone Professor Donald Sinta.
Rieth Chamber Series season tickets available
Subscriptions to the series are available for $97 and will include tickets to all seven concerts. Subscribers will receive a more than 10 percent discount over individually-priced tickets for the entire series. Subscription forms can be found online at gcmusiccenter.org/riethseries. The deadline for purchasing season series tickets is Sept. 21. Individual concert tickets are $16, and will go on sale Sept. 10.
For questions about ticket availability, pricing, reservations and more, visit gcmusiccenter.org or contact the Box Office at (574) 535-7566 or email boxoffice@goshen.edu. The Box Office, which is located in the Goshen College Music Center, is open Monday through Friday from 9 a.m. to 1 p.m. Tickets to individual concerts will be for sale as available via the Box Office, online at www.goshen.edu/tickets or at the door.