GC celebrates gift of traditional Indonesian instrument
By Kristin Troyer '19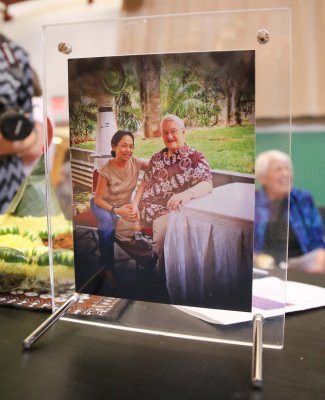 Goshen College is now home to a gamelan - a set of traditional, percussive instruments from the Indonesian island of Java. A special dedication event was held July 1 at the Goshen College Music Center.
The gamelan was gifted to GC by Duane Gingerich in 2011, though the massive size and customs regulations hindered the transfer of the instrument from Indonesia where Gingerich resided and the gamelan was housed.
Gingerich, a 1969 GC graduate, spent the last 15 years of his 26-year legal career in Jakarta as an international partner with a global law firm. Though he passed away in February 2016, his wife, Reti, has worked with the college to see her husband's wish come true.
"Duane loved Indonesia," Reti said during the dedication for the instruments.
Gingerich was motivated to donate the gamelan in honor of professor emerita of music Dr. Mary Oyer, with whom he had taken an arts class during his time as a student. Oyer was present and the guest of honor for the dedication. The gamelan's official name is "Nyai Oyer Gamelan" which translates to "Sister Oyer Gamelan."
The dedication took place in an overflowing choir room. The organizers had planned for 50-75 people but around 120 people swelled into the space already half filled with the four-ton instrument. The event consisted of special words from GC organizers Marcia Yost, director of the arts, engagement and outreach; Debra Detwiler, professor of music; Goshen College President Rebecca Stoltzfus; and Reti Gingerich, with music performed by several gamelan masters who travelled from around the country for the event.
Stoltzfus explained that when living in Indonesia with her husband, Kevin, they learned that "thank you" in Indonesian is "Terima kasih" which translates literally to "receive love." The response, "terima kasih kembali," translates to "I return that love."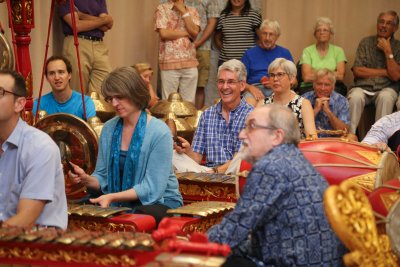 "The gift of this gamelan and whatever this gift becomes is because of the love and commitment of so many people," Stoltzfus said.
A major portion of the event was a gamelan performance by a small group of gamelan masters. Several of them came from the Chicago area, one from Earlham College in Richmond, Ind., and one from New York City.
The word "gamelan" comes from the Javanese word "gamel," meaning to strike or hammer. Gamelans typically feature a variety of instruments similar to xylophones, drums and gongs. The rhythmic music created is very spiritual in Indonesian culture and often includes supplementary, symbolic dancers and vocalists.
Half of the instruments will be moved into the Music Center's Hershberger Art Gallery for a homecoming display before the entire ensemble finds an interim home in the Union. The goal is to create a permanent home in remodeled space still to be determined. The gamelan will be used academically by Goshen College students and also used for outreach to other colleges and universities, elementary through high school students, and visiting civic and cultural groups.