GC's first English Learners license cohort sees fruit in the classroom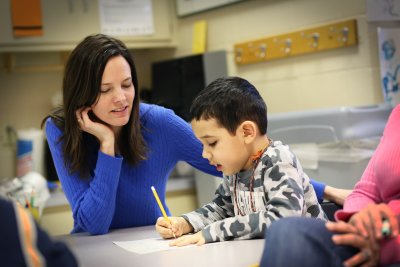 The first cohort of teachers in Goshen College's new English learner's (EL) license program returned to their classrooms with a new set of tools to better serve students whose first language is not English.
Fifteen elementary, middle and high school teachers from four different school systems completed the 11-month EL licensure in the program's first year.
The Indiana Department of Education estimates that there are currently 100 EL students for each certified EL teacher in the state. With a shortage of teachers, schools are seeing a need for teachers across all disciplines who are better equipped to teach English language learners.
"As student demographics change, our methods often need to shift, too," said Suzanne Ehst, associate professor of education. "Northern Indiana is home to a growing number of English language learners, and the knowledge and skills that teachers build in this program help them better teach content, develop their students' language skills and integrate students' home cultures. And when we focus on making our classrooms more inclusive for some groups of learners, the result is often that learning improves for all students."
Jennifer Yoder, a sixth grade teacher at Clinton Christian School in Goshen who completed the program, always wanted to work with EL students after spending time overseas teaching at a bilingual school after college.
"This program was a step for me to get closer to teaching something I'm really passionate about," Yoder said. "It has made me more aware of how I could meet the needs of my EL students and partner with my colleagues who were struggling with theirs."
"It also has taught me a lot about what it means to create a culturally inclusive environment in my classroom where anyone could join in and feel accepted and be given an opportunity to have an equitable education," Yoder said. "Through adding some cultural components into my teaching, I saw several of my students recognize for the first time that not everyone has the same privileges that they do."
Daleanne Woods, registered for the class after accepting an EL position at Woodland Elementary in Elkhart.
"Participating in the (EL) program has made me more culturally aware of the students in my building," said Daleanne Woods, a teacher in Elkhart Community Schools. "I believe it has helped me to be a better teacher in regards to EL students."
The results are already becoming evident, with 86 percent of her EL students passing the IREAD test, while 83 percent of the school showed growth on ACCESS levels this year.
The 11-month program prepares teachers who are also working full time in a classroom.
"I am a mom of two small children, a wife and I teach full-time," said Woods. "The program was set up to help accommodate the fact that the students were full time teachers. I would highly recommend the program at Goshen to others."
> Learn more about the English Leaners (EL) Licensure program