GC Juried Student Exhibit Reception and Awards Ceremony
Exhibit: Goshen College Juried Student Art Show
Date and time: Reception on Sunday, April 29, 2-3 p.m. with awards ceremony at 2:30 p.m.; exhibit on display May 6 – May 22, 2018
Location: Goshen College Music Center's Hershberger Art Gallery
Cost: Free and open to the public
---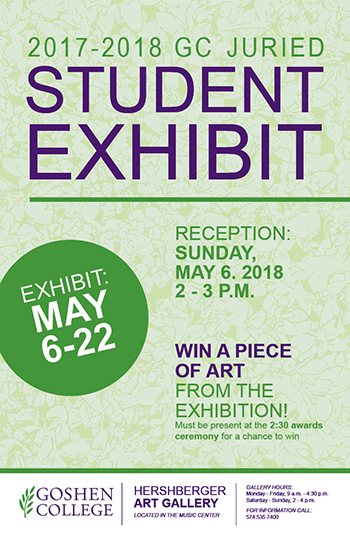 Goshen College student artwork will be on display in the Music Center's Hershberger Art Gallery for a juried art show from Sunday, May 6 to May 22, 2018. There will be a reception with refreshments on May 6 at 2 p.m., with an awards ceremony at 2:30 p.m.
The exhibit and reception are free and open to the public.
Additionally, one person who attends the reception will win a piece of artwork from the exhibition. People must be present at the 2:30 p.m. awards ceremony to be eligible to win.
The Goshen College Juried Student Art Show features selected works created by students during the 2017-18 academic year. Any student taking an art class is encouraged to submit work to this show. The show will include work in all media areas taught at the college, including
ceramics, photography, jewelry, sculpture, painting, drawing and graphic design.