The Wailin' Jennys return to Goshen College for April 15 show
Performing Arts Series Concert: The Wailin' Jennys
Date: Sunday, April 15, 2018
Time: 7:30 p.m.
Location: Goshen College Music Center's Sauder Concert Hall
Tickets: $40, $35 or $25 | Purchase tickets online at goshen.edu or by calling the Box Office at 574-535-7566
---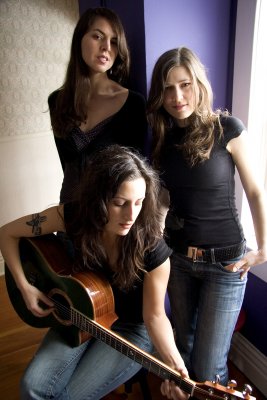 Back in Goshen by popular demand, Juno award-winning Wailin' Jennys will perform in the Music Center's Sauder Concert Hall on Sunday, April 15, at 7:30 p.m.
Nicky Mehta, Ruth Moody and Heather Masse bring three distinct voices that together make an achingly perfect vocal sound of the Wailin' Jennys. With their beautiful, heart-stopping harmonies, uplifting repertoire and engaging stage presence, the Wailin' Jenny's have delighted and charmed audiences for more than a decade. Their acoustic blend of bluegrass, folk and roots music has been featured on A Prairie Home Companion and alongside Bonnie Raitt and Rosanne Cash. Together they forge a unified folk-pop sound — all delivered with the irresistible vocal power of three.
Starting as a happy accident of solo singer/songwriters getting together for a one-time-only performance at a tiny guitar shop in Winnipeg, Manitoba, the Wailin' Jennys have grown over the years into one of today's most beloved international folk acts.
They continue to create some of the most exciting music on the folk-roots scene, stepping up their musical game with each critically lauded recording and thrilling audiences with their renowned live performances.
Tickets are $40, $35 or $25 and can be purchased through the Goshen College Box Office (574-535-7566, boxoffice@goshen.edu) or online at www.goshen.edu/tickets.
Upcoming concerts in the performance art series: