Community English language classes build confidence
By Cecilia Garcia
This story originally appeared in The Record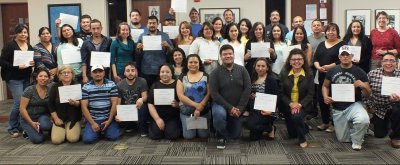 For the past three years, Rocío Díaz, coordinator of parent and community engagement at Goshen College, has been coordinating a non-credit program of adult English classes at GC. What first began as a pilot program with only three teaching levels, is now a fully structured English as a second language program with 56 current students that meet four times a week for 12 weeks, with six levels of classes based on the evaluation of the student.
Díaz has been living in the United States for more than 20 years and learned English by watching TV, listening to music and not using interpreters. Díaz did not have many resources available for her to learn English, but she was determined to learn it.
Díaz values the diverse community in Goshen and believes in the importance of building relationships and opening up opportunities for everyone to learn, grow and succeed.
"We're here in Goshen, where there are a lot of Latinos, so to me it is important that we provide education to our community. I see it as an opportunity to help the adult students, and this is also a way to create a relationship with the community," she said.
The program is very close to Díaz's heart and it means a lot to her that members of the Goshen community are attending and learning a language that opens so many opportunities to them.
"To me the program means success, it means achievement, it means opportunities to better the lives of other people. It's close to my heart," she said.
One of the goals of the Center for Intercultural and International Education (CIIE) at GC is to promote intercultural responsiveness and inclusion. Díaz believes that the English classes are one way to fulfill this goal.
"I think [the program] opens opportunities for people to perform better in the community. It will open up opportunities for them to share their culture and learn from other cultures, and this is a way to be inclusive," she said.
Díaz and the instructors, consisting of GC faculty, alumni or student volunteers, often hear from the adult students that they look forward to learning new things and that there are many reasons why they go to the classes, but the biggest challenges of the program are attendance and transportation.
"Attendance is very hard sometimes. They are parents so they have a family, they have a full time job, so it's very hard sometimes for them to attend class four times a week," Diaz said.
Regardless of the challenges, Díaz finds great satisfaction in the progress of the students and stories of improvement from their work or with helping their children with their school work.
"I find satisfaction with just seeing their faces and seeing how thankful they are — with seeing the change in their faces, attitude and their excitement and happiness of their progress," she said.
Although the program is meant to teach English, Díaz sees it as an opportunity for the students to learn even more skills and to build relationships of trust and support.
"It's about relationships. So, identifying yourself with them helps you understand what they are going through but also gives you the motivation to be persistent in how you teach them," she said.
"It's important to always listen and create trust. I tell them 'I'm here for you. Whatever you need, come to me.' That's teaching them another skill," Diaz said.
Díaz wishes for the program to continue to grow and she strongly encourages members of the community to advocate for programs and resources that help integrate members of the community to be more productive and successful.
"It's not that they don't want to learn English, it's just that the resources are not available. Advocate for them, and know what the issues are, and do not assume that they don't want to learn English," she said.
"Their legal status is one thing, but then not knowing English is even worse because they cannot speak up for themselves," Diaz said. "If they want to be part of the community they need to learn English. And those who already know the language need to advocate for these kinds of programs."