Broadway icon Audra McDonald's February concert rescheduled for June 7, 2018
Performing Arts Series concert: Audra McDonald
Date: Thursday, June 7, 2018
Time: 7:30 p.m.
Location: Goshen College Music Center's Sauder Concert Hall
Tickets: $70, $65, $55 | Buy online (after March 5, 2018)
---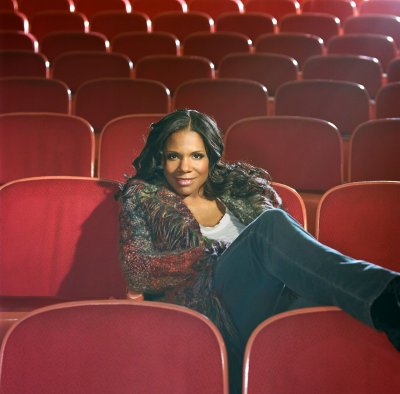 Singer and actress Audra McDonald's February Performing Arts Series appearance at Goshen College has been rescheduled for Thursday, June 7, 2018, due to a last-minute conflict with her filming schedule for the CBS All-Access series The Good Fight.
For ticket-holders would like to attend the performance on the new date, no action is necessary and current tickets will be accepted in June. For ticket-holders who would like a full refund, please contact the box office by Tuesday, Feb. 20 (574.535.7566 or boxoffice@goshen.edu). Any remaining tickets will go on sale Monday, March 5 at 9 a.m.
The winner of a record-breaking six Tony Awards, two Grammy Awards and an Emmy Award, McDonald was named one of Time magazine's 100 most influential people of 2015 and received a 2015 National Medal of Arts—America's highest honor for achievement in the arts—from President Barack Obama.
Blessed with a luminous soprano and an incomparable gift for dramatic truth-telling, she is as much at home on Broadway and opera stages as she is in roles on film and television. In addition to her theatrical work, she maintains a major career as a concert and recording artist, regularly appearing on the great stages of the world.
McDonald was born in West Berlin, Germany, the daughter of American parents, Anna Kathryn, a university administrator, and Stanley McDonald, Jr., a high school principal.  Raised in Fresno, California, the Julliard-trained soprano is equally at home on Broadway and opera stages as she is in roles on film and television.
McDonald launched her film career with Seven Servants in 1996, since then her list of credits has grown to include The Object of My Affection (1998), Cradle Will Rock (1999) and It Runs in the Family (2003). She recently appeared opposite Meryl Streep in Ricki and the Flash (2015) and played "Garderobe" in Disney's upcoming live-action Beauty and the Beast, directed by Bill Condon and starring Emma Watson and Dan Stevens (2017).
McDonald's other accolades include five Drama Desk Awards, five Outer Critics Circle Awards, four NAACP Image Awards nominations, an Ovation Award, a Theatre World Award, the Drama League's 2000 Distinguished Achievement in Musical Theatre and 2012 Distinguished Performance Award, a 2015 Rockefeller Award for Creativity, and Roundabout Theatre's 2016 Jason Robards Award for Excellence in Theatre. In 2017, she was honored as one of Variety Magazine's Power of Women, alongside Chelsea Clinton, Blake Lively and Gayle King. In 2013, she was honored as Musical America's "Musician of the Year," joining the esteemed company of previous winners such as Leonard Bernstein, Leontyne Price, Beverly Sills and Yo-Yo Ma, and in 2017 she was inducted into Lincoln Center's Hall of Fame as a member of the inaugural class, which included Ma, Price, Placido Domingo, Louis Armstrong and Harold Prince. Besides her six Tony wins, she has received nominations for her performances in Marie Christine and 110 in the Shade. In 2016, McDonald received an honorary doctorate from Yale University.
Of her many roles, her favorites are those performed offstage: passionate advocate for equal rights and homeless youth, wife to actor Will Swenson, and mother to her children.
Tickets are $70, $65, $55 and can be purchased after March 5 through the Goshen College Box Office (574-535-7566, boxoffice@goshen.edu) or online at www.goshen.edu/tickets.
Be sure to look out for future concerts in the Performing Arts Series:
Saturday, March 3, 2018, 7:30 p.m. - The Chieftains
Sunday, April 15, 2018, 7:30 p.m. - The Wailin' Jennys