Students offer bystander intervention trainings for campus and beyond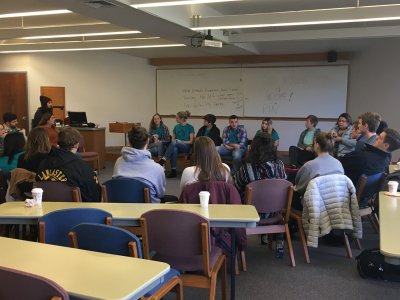 In the spring of 2015, seven students at Goshen College created a bystander intervention training program aimed at educating the student body on how to intervene in potentially harmful situations.
Today, that group is better known as the Prevention Intervention Network (PIN) on campus.
PIN began with support from Kendra Yoder, associate professor social work, and financial backing from the office of student life and then-Dean of Students Launa Leftwich. The students and Yoder received training from the University of New Hampshire's Bringing in the Bystander Program in March of 2015.
In the nearly three years since PIN began providing peer-led programming, they have trained almost the entire campus community - more than 800 Goshen College students, faculty, and staff - to be prosocial bystanders, along with more than 300 high school students and community members.
They have also developed programming to address how to be an effective bystander for students while studying abroad and facilitate a regular fall and spring program with all outgoing students and faculty. This semester, PIN has 17 active educators.
"Bystander education is important on this campus and on every other college campus," said Rowan Miller, a junior social work major from Millersburg, Ohio, and a PIN educator. "Sexual assault on college campuses is a very serious problem and educating people on how to be positive bystanders during, before and after an incident of assault occurs will make our campus a safer place."
With leadership from Yoder and Beth Martin Birky, professor of English and director of women's and gender studies, PIN has trained and utilized the skills and talents of 30 different GC students to lead and facilitate bystander trainings. PIN educators commit to at least 25 hours of training and weekly meetings as part of their commitment to the program.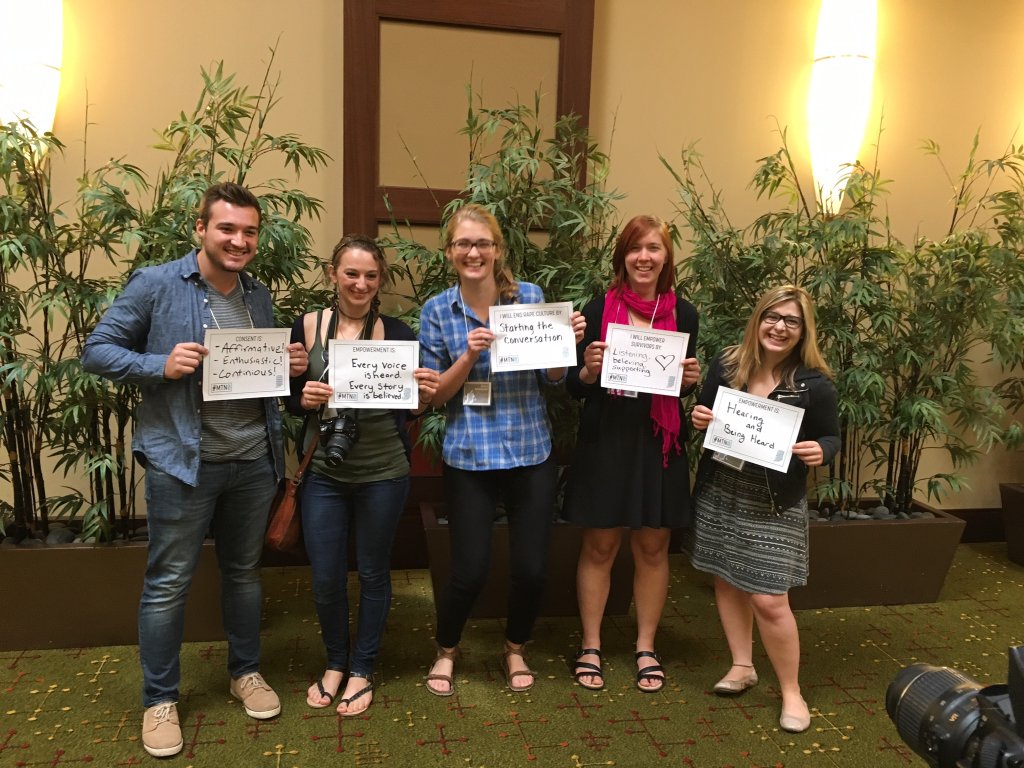 "PIN education allows for a space to talk about all of the topics that are in need of attention," said Sharada Weaver, a sophomore nursing major from Hyattsville, Maryland, and a PIN educator. "We are able to educate others on sexual assault and how to be the best and most equipped bystanders. Being a part of PIN not only educates us but allows us to carry and polish tools to educate others."
This fall, 12 PIN educators, along with Birky and Yoder, attended the Indiana Coalition Against Sexual Assault (ICESA) conference on sexual assault, where it was announced that Goshen College has been invited to join ICESA's federally funded statewide campus consortium program. As a part of this three year program, ICESA will provide ongoing assessment, evaluation, training and technical assistance to help GC develop its sexual assault policies, responses and prevention efforts on campus.
"We have been able to accomplish policy, education and responder changes in two years that would have taken some institutions five or ten years," Yoder said. "At the same time, there is so much more work to be done."
Gilberto Perez, Jr., the current dean of students, is enthusiastic about continuing integration of bystander education into campus life.
"It's exciting to see PIN taking a larger role in our campus community through the PIN trainers," Perez said. "Creating more consciousness raising on sexual assault prevention is important."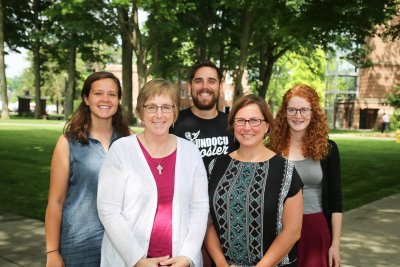 Research and Outreach
In the summer of 2016, Sarah Hofkamp, Laura Miller and Zach Zimmerman, all 2017 graduates, researched ways to improve the campus' response to sexual violence and developed new curricula as a part of the college's Maple Scholars program.
"I believe that through education and awareness we can shift cultures," said Hofkamp, who received her degree in peace, justice and conflict studies. "The program's emphasis on community responsibility fits well with the culture of service that is core to Goshen College's identity as well as the wider Mennonite community's."
In 2016, PIN adapted its curriculum for high school students and presented trainings to the youth groups of Silverwood Mennonite Church and Eighth Street Mennonite Church in Goshen. In 2017, they also provided a bystander education workshop at Goshen High School with the hope of expanding their work in this local high school. Hesston (Kansas) College invited PIN trainers to speak in chapel and two classes and lead a PIN training with student leaders.
And the work of PIN continues to evolve and broaden.
In the summer of 2017, Miller, Hofkamp and Zimmerman traveled to Orlando to lead a youth seminar, titled "Good Samaritan in the Modern Age: Intervening in Sexual Violence," at the Mennonite Church USA convention, with Birky there to provide support.
"I was so pleased with the way the PIN trainers adapted the training to fit the convention theme [of 'love is a verb'], the idea of the Good Samaritan and the needs for Mennonite youth groups," Birky said. "I thought they did particularly well with answering questions and fielding comments in a way that brought gender assumptions to the surface."
"The turnout really blew us away," Zimmerman said. "The students were engaged, asked good questions and had insightful comments, so that is great to see."
After the seminar, a youth leader from Ohio asked the group to come do a training at their church. An incoming GC student also asked how she could get involved with PIN this fall.
"I think it speaks to the need for this kind of training in Mennonite churches for everyone, regardless of age," Hofkamp said. "It's important to bring awareness about a topic that is often minimized and trivialized."
As PIN education moves forward at GC, it continues to evolve.
"I think this year will be figuring out that balance between how we resource the broader community while also attending to the needs of campus," Yoder said. "I think Goshen College is poised to be a leader among Christian liberal arts institutions for the kind of innovative, educational advocacy responses that we've created within the last couple of years."
- Jordan Waidelich '17 and Brian Yoder Schlabach contributed to this story