Brooklyn-based chamber orchestra The Knights joined by Israeli mandolinist and Syrian clarinetist Nov. 14
Concert: The Knights
Date & Time: Tuesday, Nov. 14, 2017, 7:30 p.m.
Location: Goshen College Music Center's Sauder Concert Hall
Tickets: $45, $40, $28 (Buy tickets online)
---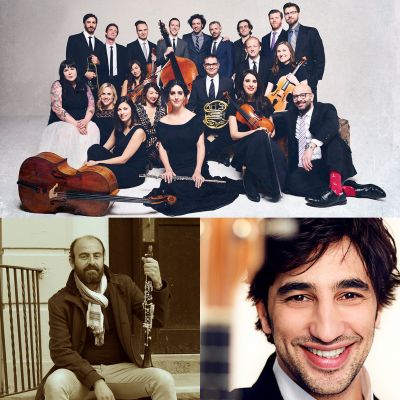 Brooklyn-based chamber orchestra The Knights will be joined by trailblazing Israeli mandolin virtuoso Avi Avital and soulful Syrian clarinetist and composer Kinan Azmeh for a dynamic and extraordinary Performing Arts Series Concert on Tuesday, Nov. 14 at 7:30 p.m. in the Goshen College Music Center's Sauder Concert Hall.
The knights are a collective of daring and talented musicians, dedicated to transforming the orchestral experience and elimination barriers between audiences and music. The knights are led by artistic directors and brothers, Colin and Eric Jacobsen. This group is committed to creating unusual and adventurous partnerships across disciplines.
The Knights use music as a tool for navigating unchartered waters, stirring up an experience filled with inspiration, stimulus and thoughtful creation.
Avi Avital, a Grammy nominated mandolinist, is known to be one of the world's most exciting and adventurous musicians. Recognized by the New York Times for his "exquisitely sensitive playing" and "stunning agility," he is regarded globally for his performances at venues such as Carnegie Hall, Lincoln Centre, Berlin Philharmonie, KKL Luzern and Forbidden City Concert Hall.
A graduate of the New York Juilliard school, Kinan Azmeh has been hailed as a "virtuoso" and "intensely soulful" by the New York Times and "spellbinding" by the New Yorker. Azmeh has a distinctive sound that cuts across different musical genres, garnering international recognition as a clarinetist and composer. He has made notable appearances at Opera Bastille in Paris, Tchaikovsky Grand Hall in Moscow, Carnegie Hall and the UN general assembly, New York.
Tickets are $45, $40, $28 and can be purchased through the Goshen College Box Office (574-535-7566, boxoffice@goshen.edu) or online at www.goshen.edu/tickets.
Be sure to look out for future concerts in the performance art series:
Friday, Dec. 8, 2017, 7:30 p.m. - Chanticleer
Friday, Feb. 9, 2018, 7:30 p.m. - Yamato: The Drummers of Japan
Saturday, March 3, 2018, 7:30 p.m. - The Chieftains
Sunday, April 15, 2018, 7:30 p.m. - The Wailin' Jennys
Thursday, June 7, 2018 - Audra McDonald (this performance has been moved from Feb. 23, 2018, due to a  last-minute conflict with Ms. McDonald's filming schedule for the CBS All-Access series The Good Fight. We apologize for the inconvenience.)