Goshen College given $50,000 for scholarships from Mexican Consulate
The Mexican consulate in Chicago has awarded Goshen College $50,000 for scholarships from its Institute for Mexicans Abroad (IME) Becas fund to provide financial assistance to students of Mexican heritage.
This is the third year that Goshen College has been selected to receive funds through this program. The college received $20,000 in 2014-15 and $27,000 in 2015-16.
"That the consulate nearly doubled their funds this year is a sign that Mexico is supportive of its young people in this country seeking an education, and they support what Goshen College is doing to provide that education," said Gilberto Pérez Jr., senior director for intercultural development and educational partnerships.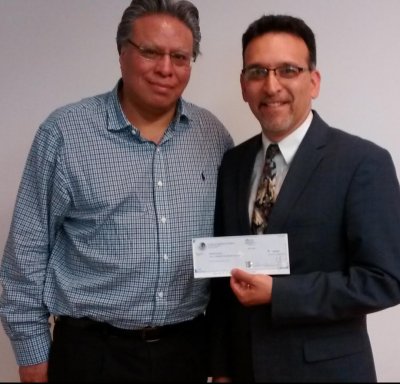 Pérez Jr. was on hand on June 5 to accept the IME Becas funds  in Chicago. The $50,000 will be matched by Goshen College to provide a total of $100,000 in aid for 21 students of Mexican heritage.
Goshen College currently provides nearly $12 million in institutional aid to all students each year.
One of the recipients is Valentin Calvillo, a senior molecular biology/biochemistry major and environmental studies minor who hopes to pursue a career in public health or cancer research, and will be the first person in his family to graduate from college.
"This will lighten my financial burden and allow me to focus on the important matters, like learning," said Calvillo. "I hope to one day be as much of a help for students to achieve their dreams as the Mexican consulate has been for me."
In addition to Goshen College, the Mexican Consulate in Chicago also awarded IME Becas funds to Northeastern Illinois University and National Autonomous University of Mexico.
The IME Becas program was started in 2005 to help expand educational opportunities for Mexicans abroad, and is aimed at helping students with few economic resources attend college.