Making music to change lives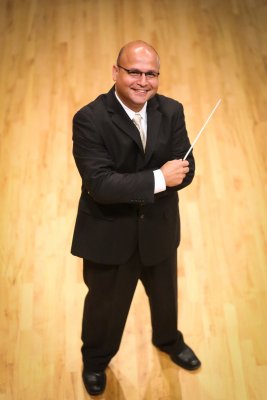 When Jose Rocha, Goshen College Associate Professor of Music, was young, he began learning how to play the cello.
But he wasn't just taught how to play the notes; he was taught using a philosophy called El Sistema. That philosophy of high expectations, being fully immersed and cooperating and sharing has been a guiding force in Rocha's life.
"I feel very strongly," he said, "that my development in music in many ways was connected to and a result of those teachings I had. I was so young when I was introduced to this way of teaching and learning that it quickly became a standard way of being for every other aspect of my life, not only music."
Now, Rocha has the opportunity to share that philosophy with students at Goshen College with the addition of a new concentration and minor in music for social change, which builds on the El Sistema approach.
"My teaching has always been highly influenced by the way I was taught," he said. "I shaped my teaching primarily based on the philosophy of El Sistema: music as a vehicle to reach vulnerable populations and open the door to opportunities, especially for those who may not have them otherwise."
This is the first undergraduate program of its kind, and students wanting to study music education will be required to take the El Sistema course, learning how to go beyond just teaching how to play notes or sing.
"The reality of music education is that teaching only music is not enough," Rocha said. "I hope that we see ourselves not only as music educators, but as a really fundamental force to educate better citizens, better human beings."
The El Sistema philosophy originally started in Venezuela. It uses music to help students, usually children with fewer resources and greater need, find success and see themselves as a valued asset to their community. It has since spread around the world, and programs centered on this philosophy have taken root.
"As our [student] teachers leave here," Rocha said, "they will have a more holistic approach to music education. Primarily, we're going to be studying how music can reach people more specifically, the most vulnerable, disadvantaged population."
For Rocha, adding music for social change is a continuation of the college's core values, and it's a way to take music education to the next level.
"It's not that musical excellence takes a second place," Rocha said. "Excellence is the foundation of this idea, but we're going to be reaching beyond to see how we can make that excellence reach out more into the students' lives."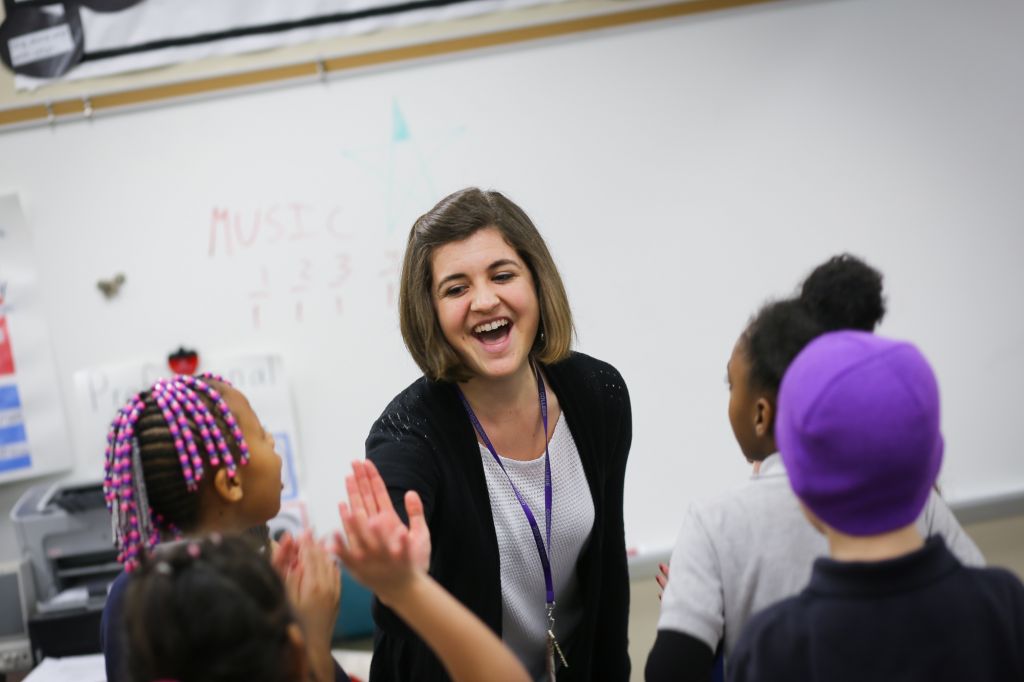 Hillary Harder, a 2015 Goshen College graduate, is now teaching in an El Sistema-inspired program at Roosevelt STEAM Academy in Elkhart, Indiana. After graduating from Goshen College, Harder earned her master's degree from Longy School of Music, a program rooted in El Sistema.
"I've always been really passionate about music as a way to bring people together," she said. "It's a continuation of what I learned here at Goshen, using music to teach kids ways to function as positive citizens in a group of people."
The president of Longy School of Music is Karen Zorn, a 1984 Goshen College graduate, who is also investing in El Sistema and using music for social change. Rocha is hoping to set up a pipeline between the music education students at Goshen and the Longy School of Music, mirroring what Harder did.
Harder's favorite part of teaching is in the morning when she gets to greet her students and tries to show them that "whatever happens in your home life, here you are loved and you are safe."
To Harder, music education has the potential to draw in students who might otherwise be marginalized, and it's something all students can excel at, despite problems like being hungry.
"It's radical inclusion," she said. "It's a pretty powerful thing to say, 'you are worthy; you are welcome.' To me that's peacemaking."
Another 2015 Goshen College graduate, Jorge Abreu Toyens, is taking the El Sistema concept and the idea of music for social change around the world. Abreu Toyens grew up in an El Sistema program in Puerto Rico and is now teaching in an El Sistema program in Barcelona, Spain.
Seeing students who start out because their parents put them into the program grow and want to learn more is the most rewarding thing for Abreu Toyens. But teaching music with a goal of social change is not without its challenges.
"The most challenging is getting this balance between doing social work and getting the highest level [of music] that you want," Abreu Toyens said. "You want to produce a great orchestra, but in the end you need to say, 'we're doing this because we're using it as social change.'"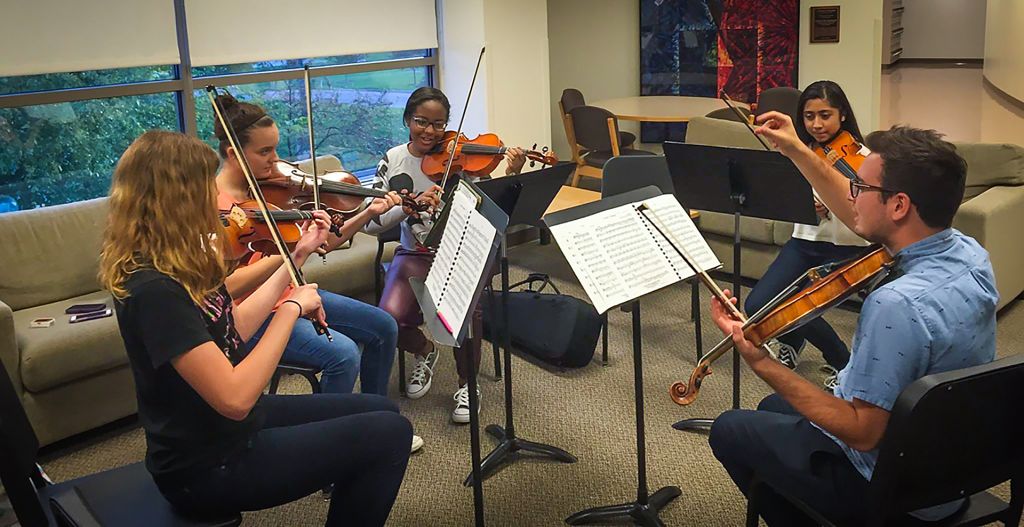 He originally wanted to study classical performance, but he didn't want to play in an orchestra for people that pay the money.
"I need to go out to do things," he said, "teach where people don't have that access. That's how music should be, available for all people regardless."
Abreu Toyens is excited to see what the music for social change program at Goshen College will do.
"Empowering people, doing great things for them and the community, that to me is creating peace for future generations," he said.
For Rocha, creating peace is what music is all about.
"Music doesn't necessarily by itself create peace," Rocha said. "But it's been something people have turned to when it comes to trying to make peace and searching for peace and hope."
The new music for social change minor and concentration is just an extension of that.
"I think our goal teaching is not necessarily teaching peace," Rocha said, "but by teaching music, we will reach that humanity we have inside, awaken it if it's not awake and if anything, make those of us who make music to continue that search for hope and peace."
– By Jordan Waidelich