GC choirs perform 'songs from many cultures' at annual EARTHTONES concert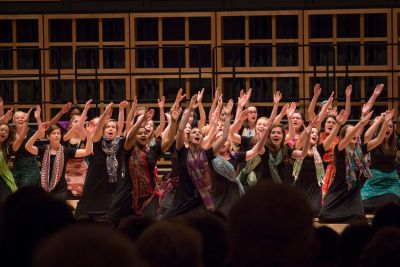 Concert: EARTHTONES – Songs from Many Cultures
Date and Time: Saturday, April 22, 2017, 7:30 p.m.
Location: Goshen College Music Center's Sauder Concert Hall
Tickets: $10 adults, $7 seniors/students, available online or by calling (574) 535-7566. GC faculty/staff/students free with valid ID.
---
The Goshen Choirs will again explore the large palette of sounds available to the human voices from around the world, in the annual EARTHTONES choral concert on Saturday, April 22, at 7:30 p.m. in Goshen College Music Center's Sauder Concert Hall.
Performing are the Goshen College Chamber Choir, Men's Chorus and Women's World Music Choir. Subtitled "Songs from Many Cultures," the EARTHTONES program will feature choral works from a wide variety of composers, cultures and countries, including works from First Nations choirs, Zimbabwe, Bulgaria, Estonia, Polynesia, England, India, Indonesia and Mongolia, and sung in such languages as Zulu, Finnish, Urdu, Madurese and Mongolian.
The choirs will perform individually and as a joint chorus. During the concert, the choirs will also recognize graduating senior choir members.
Drawing from powerful melodies originating from almost every continent, EARTHTONES promises to provide a concert of vitality and tone color in a celebration of World Music.
The Goshen College Choirs are directed by choral professors Dr. Debra Detwiler Brubaker and Dr. Scott Hochstetler.  
General admission tickets are $10 adults, $7 seniors/students, available online at www.goshen.edu/tickets or via the Goshen College Welcome Center at (574) 535-7566.  Goshen College faculty, staff, and students are free with valid ID. Patrons are encouraged to purchase tickets early.
Scott Hochstetler, DMA, is associate professor of music at Goshen College, where he teaches in the choral, vocal and opera theater programs. Dr. Hochstetler is a diverse conductor, having successfully led church, school, college, and community ensembles, and worked with singers from novice to professional. Under his direction, the Goshen College Men's Chorus performed to acclaim at the ACDA regional convention in March 2012. Hochstetler regularly clinics choirs and has led groups on tours throughout the USA and Canada. Hochstetler will guest conduct over 450 singers in the upcoming Mennonite Secondary Council Choral Festival in 2016. As a baritone, Dr. Hochstetler has performed opera and oratorio roles and given recitals in Indiana, Michigan, Ohio and Oregon. With graduate degrees from the University of Michigan and Michigan State University, Dr. Hochstetler has studied conducting with David Rayl, Sandra Snow, Jonathan Reed, Jerry Blackstone, Theodore Morrison and Kenneth Kiesler, and he has studied voice with Leslie Guinn, Stephen Lusmann and Doyle Preheim.
Debra Detwiler Brubaker, DMA, is professor of music at Goshen College, where she is involved in the choral, voice and opera theater programs, teaches related courses, and has served as department co-chair. Her graduate degrees are from the University of Kansas and the University of Northern Colorado. Since coming to Goshen in 1999, Brubaker has directed the Goshen College Chorale and Chamber Choir, and in 2004 created the Women's World Music Choir, which was an invited performer at the 2013 Indiana Music Educators Association conference in Ft. Wayne (Ind.), and has also performed at the 2008 Central Division conference of the American Choral Directors Association in Grand Rapids (Mich.). In addition to touring many parts of the United States and Canada, Dr. Brubaker's choirs are in demand regionally, having performed with the Toledo Symphony, Ft. Wayne Philharmonic Orchestra, and South Bend Symphony. Dr. Brubaker is an accomplished hymn leader, specializing in international music. A recent Maple Scholars research project with alumni Solomon Fenton Miller & Lisa Horst Schrock and hymnologist and musicologist Dr. Mary Oyer is now housed in the Indiana University Folklore Archives. Its focus on indigenous African music emphasizes Brubaker's interest in exploring how the use of hymn and folk singing can become a catalyst for connections between people of differing cultures, faiths, ages, and circumstances, and serve as an empowering tool for women.