National Symphony Orchestra of Ukraine to perform at GC Feb. 28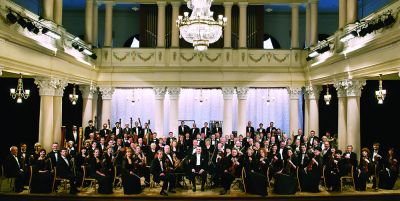 Concert: The National Symphony Orchestra of Ukraine
Date: Tuesday, Feb. 28, 2017
Time: 7:30 p.m.
Location: Goshen College Music Center's Sauder Concert Hall
Cost: $50, $45 or $32
---
The National Symphony Orchestra of Ukraine will present a Performing Arts Series concert in Goshen College Music Center's Sauder Concert Hall on Feb. 28 at 7:30 p.m.
Formed in 1918 and currently conducted by Volodymyr Sirenko, the 95-member ensemble is considered to be one of the finest symphony orchestras in Eastern Europe with multiple Grammy Award nominations.
Described by Soviet composer and pianist Dmitiri Shostakovich as being "of the highest level," the symphony orchestra has released more than 100 sound recordings which include both Ukrainian and international repertoires.
This distinguished ensemble displays its brilliance, warmth and expressive versatility in splendid works that will feature Tchaikovsky's Violin Concerto as well as his great Symphony No. 6 "Pathetique."
Tickets are $50, $45 or $32 and can be purchased through the Goshen College Welcome Center (574-535-7566, welcomecenter@goshen.edu) or online at www.goshen.edu/tickets.
Future concerts in the Performing Arts Series include:
March 10, 2017, 7:30 p.m. – Pink Martini

March 31, 2017, 7:30 p.m. – tenThing

May 2, 2017, 7:30 p.m. – Che Malambo