Themes of love arise in Winter One Acts Feb. 17-19
Event: Winter One Acts
Date and time: Feb. 17 & 18 at 8 p.m.; Feb. 19 at 3 p.m. (ASL interpreted)
Location: Goshen College Umble Center
Cost: $5, tickets available at the door or online
---
The Goshen College Theater Department will perform two one act plays, "Something Unspoken" by Tennessee Williams and "A Marriage Proposal" by Anton Chekhov on Friday, Feb. 17, and Saturday, Feb. 18 at 8 p.m. and on Sunday, Feb. 19 at 3 p.m. (ASL interpreted) in Goshen College's Umble Center.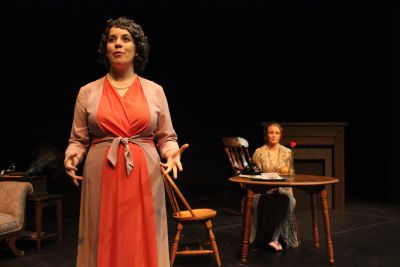 Like many of Tennessee Williams' plays, "Something Unspoken" takes place in the American South and sympathizes with those whose voices are silenced. The play examines the relationship between two women: Cornelia, a reputable woman of the south, and Grace, her secretary. In a time and place where homosexuality is viewed with disgust, we see their closeted feelings reach a tipping point.
"Something Unspoken" will be directed by Martin Flowers, a 2016 GC graduate, and will feature Courtney Crapser, a sophomore English major from Churubusco, Indiana, and Olivia Smucker, a first-year psychology major from Harrisonburg, Virginia.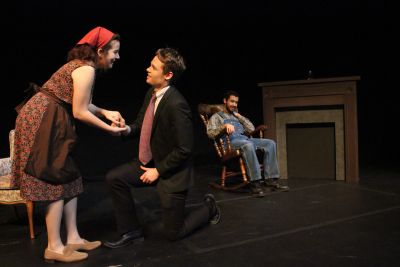 "A Marriage Proposal" is a comical play that takes place in Russia and involves a young man proposing to a young woman, though things don't quite go as planned. The play has three characters: the father, Stepan, who is a country farmer; his daughter, Natalia, who is about 25 and has a stubborn personality; and the nervous neighbor, Ivan, who is the one that proposes.  
"A Marriage Proposal" will be directed by Tabitha Immanuel, a junior film production and theater major from New Delhi, India. It will feature Claude Lilford, a first-year film production and writing major from Trinidad and Tobago, Carter McKay-Epp, a sophomore computer science major from Erie, Colorado, and Olivia Smucker.
"Both of these short plays were selected because they fall under the genre of modern realism, and we make a point in GC theater to provide our students with opportunities to work with plays from an eclectic array of genres," said Doug Liechty Caskey, producer and professor of theater. "It's not an accident that the plays focus on personal relationships so close on the heels of Valentine's Day."
The production team includes: Andrew Moeggenborg, technical director and set designer; Ben Reimer, assistant technical director; Melanie Hertzler, production stage manager; Mary Seeck, assistant stage manager and costume designer; Riley Woods, light designer and master electrician; Brandy Lowe, props manager; Annie Steiner, hair and makeup designer; and Nick Peebles, master carpenter.
Tickets for the show cost $5, and are available through the Welcome Center by calling (574) 535-7566, online at goshen.edu/tickets or at the Umble Center Box Office an hour before the show.