'Requiem for Peace' the focus of Nov. 5 symposium and concert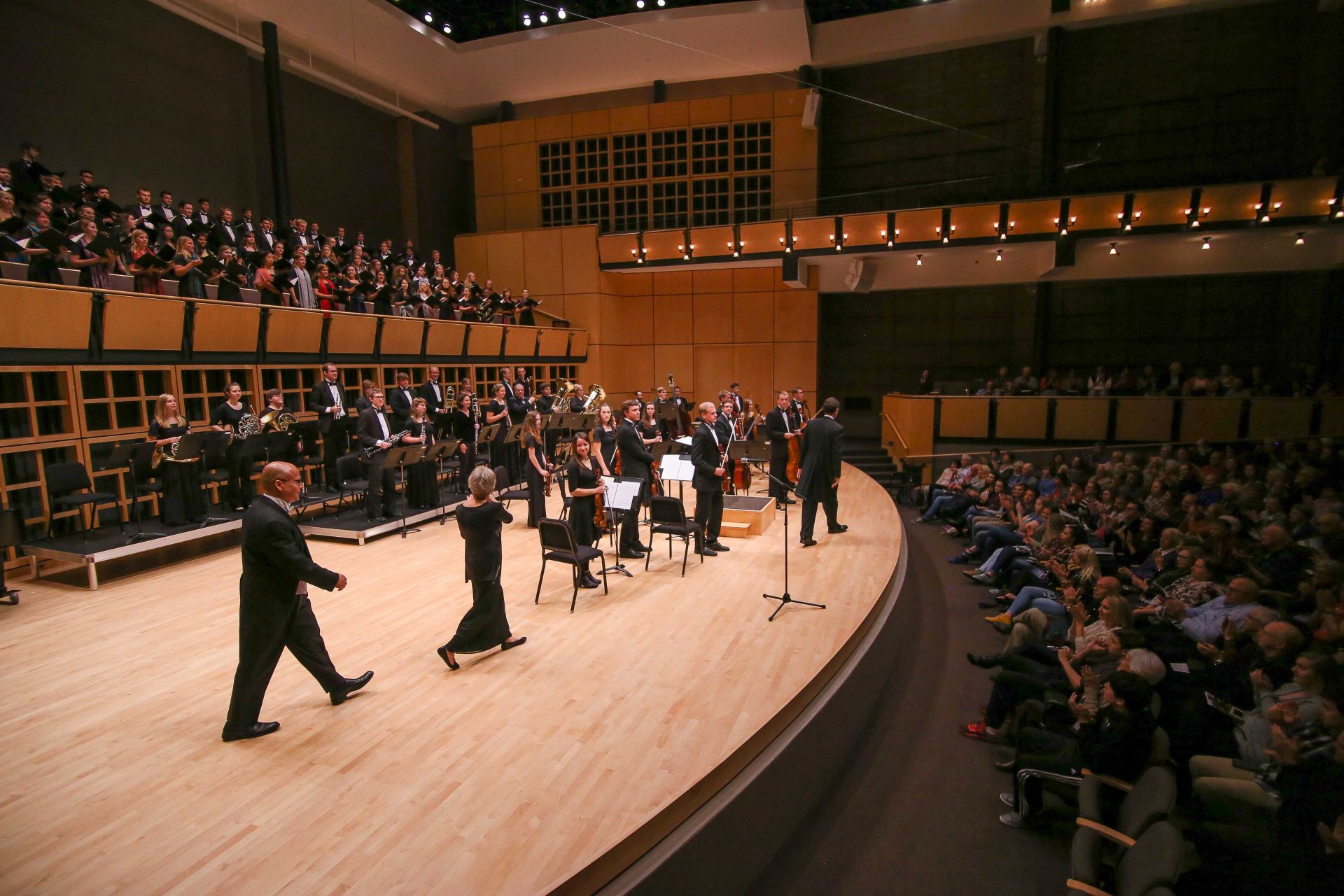 Symposium: "Requiem for Peace — Stories & Songs of Conflict and Renewal"
Date & Time: Saturday, Nov. 5, 2016, 1 p.m.
Location: Music Center, Room 153
Cost: Free and open to the public
Concert: "Requiem for Peace" by Larry Nickel, feat. Goshen College combined choirs & orchestra
Date & Time: Saturday, Nov. 5, 2016, 7:30 p.m.
Location: Sauder Concert Hall
Cost: $7 adults, $5 seniors/students, available online or by calling (574) 535-7566. GC faculty/staff/students free with valid ID.
---

An hour-long choral piece sung in a dozen different languages, written by Mennonite composer Larry Nickel, will be the focus of a public symposium and concert on Saturday, Nov. 5, 2016 in the Goshen College Music Center.
"Requiem for Peace" is Nickel's doctoral thesis — an international call for forgiveness and reconciliation that features pacifist poetry from around the world. The 16-movement piece is meant to mourn and remember the innocent civilians caught in the crossfire of war. The Nov. 5 performance, which begins at 7:30 p.m. in the Music Center's Sauder Concert Hall, will feature the Goshen College combined choirs and Symphony Orchestra (GCSO), conducted by Scott Hochstetler. The GCSO, conducted by José Rocha, will also perform the final movement from Antonín Dvorák's "New World Symphony.".
"Remembrance, regret, remorse, repentance, reconciliation, redemption, renewal, requiem; these are the themes that run through Requiem for Peace," Nickel said. "It is a message of hope."
Prior to the concert, a free symposium called"Requiem for Peace — Stories & Songs of Conflict and Renewal" will be held from 1 to 4:30 p.m. in the Music Center, Room 153. Participants will hear from Latina women caught in the U.S. justice systems, local immigration lawyer and 1999 Goshen College alum Lisa Koop, members of Veterans for Peace from Chicago and former MCC workers in Colombia, who will share about their experiences working in situations of difficulty and conflicting ideologies.
With the country currently caught up in political tension and rhetoric, the hope is that this day of music and stories can make a small difference towards opening hearts and minds. Leading up to Nov. 5, students and staff will be folding paper cranes to hang and display in the Music Center, giving a visual response to the call for community.
Requiem for Peace premiered at the Chan Centre for the Performing Arts in December 2005. In 2011, Nickel reset Requiem for Peace for chamber size forces and this version was premiered by the Vancouver Chamber Choir that November. Five years later, the Nov. 5 concert at Goshen College will be a premiere performance by a Mennonite institution of higher learning of the choral work.
Requiem for Peace includes texts in Hebrew, Farsi, Arabic, Mandarin, Japanese, French, Dutch, Russian, Latin, German and English.
"I visited rabbis and priests; I was on the phone to Holland and Zurich; I e-mailed contacts in Hong Kong, Hyderabad and Jakarta," Nickel writes on his website. He added that colleagues "have been invaluable resources for this project: providing suitable poetry and then painstakingly helping me with transliteration and pronunciation."
Nickel was a high school performing arts teacher for 25 years. He directed more than 50 stage productions, including Gilbert and Sullivan operettas. In 1993 he won the International Association of Jazz Educators award for outstanding service to jazz education. His choirs were selected two years in a row, 2001 and 2002, by Varsity Vocals' international search for the "Best of High School Choirs."
In 1989, Nickel almost died of viral encephalitis. Following a long recovery, he says, "During that time of healing I committed myself to writing music that speaks to the deep questions of our existence." Christian convictions permeate much of his writing.
Nickel and director Tony Funk founded the West Coast Mennonite Chamber Choir in 1990. The choir recorded thirteen CDs, including over one hundred of Nickel's compositions, with proceeds from CD sales donated to Communitas Supportive Care Services, a charitable organization that works with mentally challenged people.
In 2003 Nickel took a leave from teaching to complete a DMA in composition, out of which Requiem for Peace was born.  
Symposium Schedule:
1-1:45 p.m. — Making Peace in Colombia: Former Mennonite Central Committee workers who have served in Colombia in the past decade. Featuring Janna Hunter Bowman, a 2000 GC graduate, and Elizabeth Miller, a 2006 GC graduate and Elise Ditta. 
2-2:45 p.m. — Navigating the U.S. Immigration System: Two Latina women in difficult situations will be speak about how they are dealing with lack of support from the immigration system. They will be accompanied by Lisa Koop, a 1999 GC graduate and immigration lawyer, and Mara Weaver a 2013 GC graduate.
3-3:30 p.m. —  Break for refreshments
3:30-4:15 p.m. — Facing War and Turning to Nonviolence: Stories from Veterans for Peace: Featuring Arny Stieber, a Vietnam War combat veteran and retired CEO,  Adam Dowd, a recent military officer and student at Lutheran School of Theology, and Dennis Koehn: Vietnam era draft resister, management consultant and recent dissertation author: "Billy Graham, Martin Luther King, Jr., and the Vietnam War."
In between each of these three presentations, Goshen College Professor Emerita of Music Mary Oyer will lead hymns with commentary, based on the themes of peace, conflict, and reconciliation.