English as a new language classes available this fall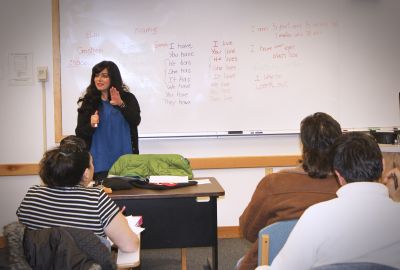 Goshen College will begin offering English as a new language (ENL) classes this fall, open to anyone in the Goshen community who wants to improve their English language skills, though the college's Center for Intercultural and International Education (CIIE).
Beginner and intermediate classes will run for twelve weeks, from Sept. 12 through Dec. 15, and will be offered Monday through Thursday evenings from 6-8:15 p.m. The classes cost $300 and payment plans are available. The registration deadline is Friday, Sept. 2.
"The classes will provide a space for community members to obtain necessary language skills that will further integrate them in community," said Gilberto Perez, senior director of intercultural development and education partnerships.
Participants who complete the requirements for each course will receive a certificate of completion.
For more information or to sign up, contact Rocio Diaz at srociod@goshen.edu.
---
---
Goshen College comenzará a ofrecer clases de Inglés como Segunda Lengua a la comunidad de Goshen a partir del 22 de febrero de 2016, a través del Centro para la Educación Intercultural e Internacional (CIIE) de la propia universidad.
Las clases para principiantes y personas de nivel intermedio durarán doce semanas, del 22 de febrero al 19 de mayo, cuatro noches a la semana, y están abiertas a cualquier persona que quiera mejorar sus habilidades lingüísticas en inglés. Las clases cuestan 300 dólares y los planes de pago están disponibles. La fecha límite de registro es el miércoles, 10 de febrero.
"Las clases proporcionarán un espacio para que los miembros de la comunidad obtengan las habilidades lingüísticas necesarias que les integrarán aún más en la comunidad," dijo Gilberto Pérez, director senior del desarrollo intercultural y de las asociaciones de educación.
Los participantes que cumplan los requisitos de cada curso, obtendrán un certificado de su finalización.
Para más información o para registrarse, contacte Rocío Díaz en srociod@goshen.edu