Musical theater camp Friday Night Revue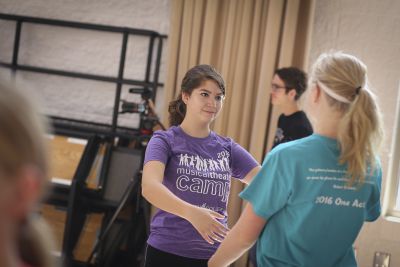 Event: Musical Theater Camp Friday Night Revue
Date and Time: Friday, June 24, 2016 7:30 p.m.
Location: Goshen College's Umble Center
Cost: Free and open to the public
---
Participants in the Goshen College Musical Theater Camp will perform scenes and solos during the Friday Night Revue in Umble Center on June 24 at 7:30 p.m. The event is free and open to the public.
The camp is open to current 8th-12th grade singers, actors and dancers who are interested in developing their skills on stage. Students participate in workshops, master classes, private lessons and rehearsals with professionals in the field.
Each day of the camp is split into a morning session and an evening session – during the morning camp students attend workshops and classes, and during the evening camp students rehearse scenes from musicals like Les Miserables, Spring Awakening, Rent and the Sound of Music.
Teachers include Gino Deluca, master class voice coach; Lindsay Nance, acting workshop teacher; Phil Weaver-Stoesz, acting workshop teacher; Casey Nordman, dance and movement teacher and Scott Hochstetler, music director. Rebecca Dengler Kaufman is the camp director.
"I'm excited to be a part of a program that allows high school students who have a love for music and theater to work closely with so many creative teachers who are passionate about what they do," she said. "It'll be fun to watch these students grow and become more confident within the span of this one week and then show off what they've learned to the public in their final performance."
The Musical Theater Camp is one of six summer camps currently offered at Goshen College. Others include Soccer Camp, Write on Sports Camp, Volleyball Camp, Little Leafs Basketball Camp and Girl's Elite Prospect Soccer Camp. For more information, visit goshen.edu/summercamp.