GC alumni involved in new song collection for Mennonite churches – MennoMedia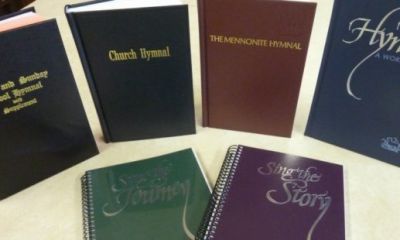 Four Goshen College graduates have been chosen to serve on the 12-person committee for the new song collection for Mennonite churches planned for release in 2020.
The committee selections were announced by Bradley Kauffman '96, recently named project director for the collection, and Amy Gingerich '99, editorial director for MennoMedia, the agency managing the project on behalf of Mennonite Church USA and Mennonite Church Canada.
The committee includes:
Adam Tice '02, text editor; Tice has written hymn texts for more than two hundred published songs. Originally from Pennsylvania, he also served a pastorate near Washington, D.C.
Katie Graber '99, Columbus, Ohio; Graber has a PhD in ethnomusicology from the University of Wisconsin. Originally from Iowa, she teaches piano and music at two universities, and is part of Columbus (Ohio) Mennonite Church.
Emily Grimes '14, Salem, Oregon; Grimes grew up at Berkey Avenue Mennonite Church in Goshen and is a music teacher at Western Christian Schools in Oregon. She attends Salem Mennonite Church.
SaeJin Lee '11, Elkhart, Indiana; Lee is currently studying at AMBS with a minor in music in worship; she is part of the Hively Avenue congregation and worked with music at the 2015 Mennonite World Conference.