Goshen College announces Spring 2015-16 Dean's List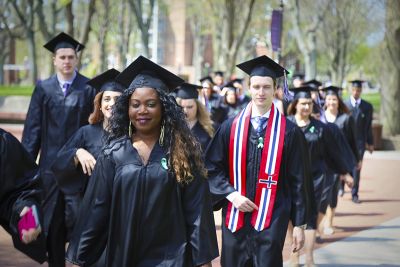 Goshen College recently recognized 221 undergraduate students for excellence in academics on the 2015-16 spring semester Dean's List.
The Dean's List includes traditional undergraduate students earning at least a 3.75 GPA, while completing at least 12 hours of course work for a letter grade. Only grades from the designated semester are included in the Dean's List selection process.
The college initiated its Dean's List in fall 1999 and it celebrates the achievement of students who have met high academic standards.
---
Traditional Undergraduate:
Seniors

Betrice Tinawati
Hannah Barg
Caleb Beachy
Christian Bechler
Jared Berkey
Ashley Bontrager
David Bontrager
Jesse Bontreger
Isaiah Breckbill
Marcos Castillo
Eric Cender
Brian Charles
Yi-Ta Chen
Kate Crawford
Anna Cullar
Ashley Davenport
Jessica Davila
Elizabeth Franks-North
Joelle Friesen
Aaron George
Madeline Gerig
Armarlie Grier
Sadie Gustafson-Zook

Maxwell Heckathorn
Marissa Hochstetler
Christina Hofer
Sarah Hofkamp
Ali Iavagnilio
Vincent Kurtz
Leah Landes
Cecilia Lapp Stoltzfus
David Leaman-Miller
Jaeyoon Lee
Lynelle Leinbach
Hayley Mann
Mitchell Martin
Laura Miller
Helena Neufeld
Peter Paetkau
Do Won Park
Andrew Pauls
David Pauls
Jacob Penner
Peter Reimer
Kayla Riportella

Jacob Roth
Sophia Sears
Morgan Short
Rebecca Slabaugh
Kelsey Smith
Samuel Smucker
Cindy Soto
Brian Sutter
Elizabeth Tecca
Wade Troyer
Lana Van Auken
Janeth Vela
Michael Walker
Grace Weaver
Margaret Weaver
Carley Wyse
Bryan Yoder
Tessa Yoder
David Zehr
Paul Zehr
Zachary Zimmerman
---
Juniors

Kamylle Amburgey
Abby Banning
Calla Bartlett
Megan Baumgartner
Erin Bergen
Brenner Burkholder
Joshua Bustos
Blake Collins
Ellen Conrad
Joshua Das
Madeline Delp
Mitchell Denlinger
Nathanael Dick
Sadie Drescher
Melanie Drinkwater
Megan Eigsti
Courtney Featherstone
Madeline Garber

Joel Gerig
Isaac Godshalk
Brynn Godshall
Julian Harnish
Hanna Hochstetler
Joseph Kreider
Mark Kreider
Reuben Leatherman
Joani Lindsay
Timothy Litwiller
Natalie Mark
Kathryn McKinnell
Lydia Miller
Sabrina Miller
Suetta Miller
Eliana Neufeld Basinger
Chelsea Risser
Lisa Rodriguez

Rebekah Schrag
Dmitriy Shendel
Anna Shetler
Rachel Short-Miller
Valeriya Skorobogatko
Daniel Smucker
Andrew Snyder
Maxwell Stauffer
Kyle Stocksdale
Pamela Studebaker
Hannah Thill
Jordan Waidelich
Aritha Weerasinghe
Lauren Wenger
Courtney Wengerd
Benjamin Wiebe
Morgan Yordy
Jacob Zehr
---
Sophomores

Spencer Aeschliman
Ana Andriano
Daniel Aramouni
Clara Beck
Kenan Bitikofer
Erin Bontrager
Marie Bontrager
Lena Charles
Hannah Friesen
Roxanne Gehring

Meghan Gerke
Christian Grider
Lydia Hartman-Keiser
Sarah Hartman-Keiser
Madeline Keener
Caleb Liechty
Isaac Longenecker
Jenae Longenecker
Geoffrey Miller

Monica Miller
Mary O'Connell
Jessica Raffel
Cassandra Sessa
Christine Sessa
Joseph Stoltzfus
Austin Weaver
Simon Weaver
Eric Zurcher

---
Freshmen

Anne Buckwalter
Sydney Cruz
Annika Detweiler
Jesus Dominguez Olvera
Megan Ewing
Suzanna Griest
Jordan Helmuth
Isaac Huerta
Lydia Kelsey

Maria Lopez Azpeitia
Carter McKay-Epp
Skye McKinnell
Mariana Messick
Johan Miller
Rudin Mucaj
Nathaniel Nussbaum
Meredith Satchwell

Bridgette Webb
Landon Weldy
Joseph Wheeler
Katie Yoder
Trent Yoder
Trever Yoder

---
Adult undergraduate programs:
Bachelor of Science in Nursing program
Benjamin Friesen
Kelly King
Danielle Miller
Susan Njoroge
Elya Schmidt
Jessica Shaffer
Rachel Smith
Rachel Renner
Rebecca Riddle
Jessica Rinehart
Leah Clementz
Breanna Gearhart
Carmen Grove
Heather Jacobs

Jessica Ludwig
Samantha Moody
Jena Phelps
Tammy Reed
Cory Shaw
Amanda Vasquez
Abigail Workman
Paula Zapf
Tamara Coney
Rachel Ganter
Vicky Gross
Lori Haney
Jennifer Hilton

Mellissa Hite
Sabrina Jones
Tyreta Lee
Leslie Lindenberg
Madison Ludwig
Martha Nganga
Dina Patti
Stacy Robinia
Martha Strain
Catherine Wesson
Barbara Whitlock
Michelle Wright
Rebecca Yeske

---
Bachelor of Science in Organizational Leadership program

Juan Garcia
Darlene Kennedy
Aaron Krizmanich
Perminus Njogu

Janice Scoles
Linda VandenBosch
Bernard Onyango

Sally Ponce
Corrine Thompson
Jennifer Van Vooren