Indiana singer-songwriter Carrie Newcomer '80 to speak at 118th commencement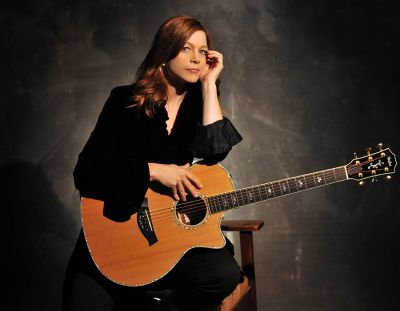 Carrie Newcomer, an Indiana-based singer-songwriter, author and a 1980 Goshen College alumna, will be the speaker at Goshen College's 118th commencement ceremony on Sunday, April 24 at 3 p.m. in the Roman Gingerich Recreation-Fitness Center.
---
See the graduation webpage for a full schedule of events and other helpful information about Commencement Weekend.
---
With 15 solo CDs, the most recent being her 2014 release, "A Permeable Life," accompanied by her book of the same title, Newcomer has been described as a "prairie mystic" by the Boston Globe, and Rolling Stone says "Rapturously tuneful, Newcomer's material asks all the right questions and refuses to settle for easy answers." She has toured with Alison Krauss in Europe and the United States, and Nickel Creek recorded Newcomer's song "I Should've Known Better" on their Grammy-winning album This Side.
Born in Dowagiac, Michigan, and raised in Elkhart, Indiana, Newcomer attended Ball State University, Goshen College and Purdue University. Her involvement in social justice, charitable activities and collaborations with other authors and artists significantly influences her music, which is rooted in Quaker theology and cuts across secular and spiritual boundaries.
"I discovered Quakerism when I was in college," Newcomer told the South Bend Tribune of her Study-Service Term (SST) experience at Goshen College. "I was teaching school in Costa Rica and I encountered my first silent Quaker meeting in a rain forest. There's something about being quiet, sitting in silence for an hour together, it just really worked for me. Most of my writing comes from being able to sit in silence, take my time and just listen, listen to my heart."
In 2009 and 2011 the American Embassy of India invited her to India as a cultural ambassador, including musical performances organized by the US State Department. In 2012 she made a similar trip to Kenya on behalf of the Interfaith Hunger Initiative, performing in schools, hospitals, spiritual communities and AIDS hospitals. In 2013 she visited organizations dedicated to non-violent conflict resolution through the arts and the empowerment of women in the Middle East.
Newcomer has received numerous awards for her music and related charitable activities. Chicago's WBEZ radio and The Chicago Tribune included Newcomer on their list of the Top 50 folk artists of the last 50 years. She made Boston's WUMB radio station's list of the Top Most Influential Artist of the past 25 years. Folk Wax Magazine awarded her both Artist of the Year and Album of the year in 2003 and 2007, and the City of Bloomington's Commission on the Status of Women named Newcomer 2003 Woman of the Year.
In October 2011, she released her interfaith collaborative benefit album, "Everything is Everywhere," with world master of the Indian Sarod, Amjad Ali Khan. Huffington Post Religion Community listed her song "Holy as the Day is Spent" as one of the best spiritual songs of 2012.
Newcomer currently lives in Southern Indiana with her husband and their two dogs.
---
Schedule of Goshen College's 118th Commencement Weekend activities:
Saturday, April 23
1:30 p.m. – Nurses' Pinning Ceremony, Church-Chapel
2-5 p.m. – Department receptions – graduates and families meet informally with professors (exact times and locations to be announced by departments)
7:30 p.m. – Senior Class Program, Music Center's Sauder Concert Hall

8:45 p.m. – President's Reception for graduates and families, Music Center lobby
Sunday, April 24
11 a.m. – Baccalaureate service, with address by President James E. Brenneman, Church-Chapel

3 p.m. – 117th Annual Commencement Ceremony, with address by Carrie Newcomer, Roman Gingerich Recreation-Fitness Center (no tickets needed). Live web streaming will also be available for those unable to attend.
---