Elkhart County's local food systems featured in new film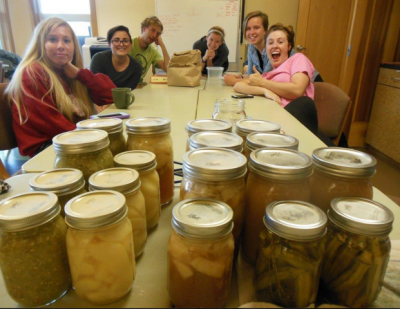 Film: "From Fencerows to Foodsheds," with filmmaker Janet Katz
Date and time: Friday, Feb. 12, 5 to 7 p.m.
Location: Goshen College, Newcomer Center, Room 17
Free and open to the public
---
Thanks to rich soil and relatively flat topography, Indiana has the ability to grow enough food to feed all its people. Yet an estimated 90% of the food Hoosiers eat is imported from elsewhere.
Why are Midwestern communities rebuilding their local food systems and working to change this? Fencerows to Foodsheds, a recent film by Janet Katz, explores this question with a look at two communities—the town of Batesville, Ind., southeast of Indianapolis and Elkhart County.
Merry Lea Environmental Learning Center of Goshen College will host a potluck and showing of this film on Friday, Feb. 12, 5 to 7 p.m. at Goshen College, Newcomer Center, Room 17. Attenders should bring a potluck dish to share. Advance registration is appreciated but not required. Email mlevents@goshen.edu and indicate if you are able to bring food.
One of the initiatives featured in the film is the Merry Lea Sustainable Farm and its Agroecology Summer Intensive, begun by the late Dale Hess. The nine-week summer program teaches undergraduates to grow food in ways that are healthy for local ecosystems. Others can earn a certificate instead of college credit.
Seed to Feed, a program of Church Community Services, is also featured. Seed to Feed manages a network of gardens that provide fresh food to Elkhart County food pantries.
Attenders will have the opportunity to dialog with filmmaker Janet Katz and with members of the Elkhart County Foodshed Initiative (ECFI), a group that collaborates on and nurtures community based food systems. Elkhart County is one of two pilot communities in Indiana selected by Purdue Extension to roll out their Rebuilding Your Local Food System program. The ECFI grew out of the Purdue study. Read more at http://foodshed.info/