Shands Stoltzfus receives Indiana's highest civil rights award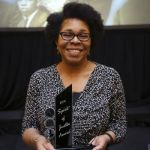 » See photos from the award ceremony
---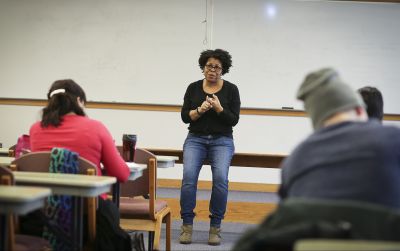 Regina Shands Stoltzfus, assistant professor of peace, justice and conflict studies at Goshen College, has been awarded the 2016 Spirit of Justice Award by the State of Indiana Civil Rights Commission (ICRC).
The Spirit of Justice Award is the ICRC's highest honor. The award was created to recognize Hoosiers, who inspired by Dr. Martin Luther King, Jr.'s dream, have devoted their personal and professional efforts to creating social justice in the State of Indiana.
Shands Stoltzfus will be honored at the 25th Annual Dr. Martin Luther King, Jr. Indiana Holiday Celebration on Thursday, Jan. 14, at the Indiana Statehouse, as well as at Goshen College during MLK Day celebrations on Monday, Jan. 18.
"I am grateful for the affirmation of work that I have long felt called to," Shands Stoltzfus said. "I am even more grateful, however, for the many mentors and co-laborers I have in my friends, colleagues, family members and of course, my students. We are in this together – no one does it alone."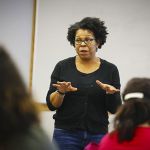 Shands Stoltzfus teaches courses in race, class and ethnic relations, personal violence and healing, peacemaking, women and gender studies, biblical studies and transforming conflict and violence.
She attended Goshen College and earned a bachelor's degree in English from Cleveland State University in 1988. In 2001 she earned a master's degree in Biblical studies from Ashland Theological Seminary and is currently a Ph.D. candidate in theology, ethics and contemporary culture at Chicago Theological Seminary. She began teaching at Goshen College in 2002.
She has previously served as an associate pastor at Lee Heights Community Church in Cleveland, Ohio, as campus pastor at Goshen College, as minister of urban ministries with Mennonite Mission Network, as staff associate for urban peacemaking with Mennonite Conciliation Service, and as director of admissions at Anabaptist Mennonite Biblical Seminary.
Shands Stoltzfus is a co-founder of the Damascus Road anti-racism education program, now called Roots of Justice Anti-Oppression program, and regularly leads anti-racism workshops. She serves on the steering committee for the Women in Leadership Project with Mennonite Church USA. She co-authored the book "Set Free: A Journey Toward Solidarity Against Racism" (Herald Press, 2001). She is the mother of four adult children and attends Assembly Mennonite Church in Goshen.
"We are excited to honor Hoosiers who have continued the dream of Dr. King through their work in making Indiana such a great place to live," said Jamal L. Smith, executive director of the Indiana Civil Rights Commission.
According to the ICRC website, the Spirit of Justice Award "recognizes an individual who has made significant contributions to the advancement of all Hoosiers and maintains a focus on achieving equality. This person promotes peace within their community, understands and improves communication, and facilitates cooperation between diverse populations. This person has shown visible and continued leadership in education, civil rights or the provision of significant social services in honor of Dr. King."
The awards program will take place on Thursday, Jan. 14, 2016, in the Indiana Statehouse North Atrium from 12:30 to 2 p.m., and will include the presentation of four awards that will be given to Hoosiers who have worked diligently to improve their communities in a manner that exemplifies the vision of Dr. Martin Luther King, Jr.
The 2016 Dr. Martin Luther King, Jr. Indiana Holiday Celebration Award Recipients are as follows:
Spirit of Justice Award: Regina Shands Stoltzfus – professor at Goshen College, Goshen
Freedom Award: Greg Easton – principal of Morton High School, Hammond
Chairman's Award: Rev. Adrian M. Brooks, Sr. – pastor of Memorial Baptist Church, Evansville
Citizen Advocate Award: Kendra Johnson – community advocate, Gary

The program, which is open to the public for no charge, is expected to bring together more than 500 students, state employees, local and state government officials, human rights agencies and Indiana residents from across the state to celebrate the legacy of Dr. King.
The program's keynote performer will be award-winning journalist, Anita Woodley, and will feature addresses from Indiana Governor Michael Pence, and ICRC Executive Director, Jamal Smith.
Related stories:
» Goshen College professor receives state's highest civil rights award – The Elkhart Truth
» Goshen College professor Regina Shands Stoltzfus honored for her role in promoting civil rights – The Goshen News
» Goshen College Social Justice professor is awarded for her efforts by the Indiana Civil Rights Commission – Fort Wayne News Sentinel
---