Goshen College names 215 students to fall 2015 Dean's List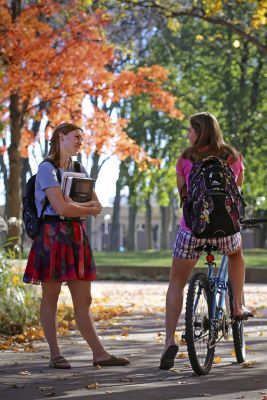 Goshen College recently recognized 215 students for excellence in academics on the fall 2015-16 semester Dean's List.
The Dean's List includes undergraduate students earning at least a 3.75 GPA, while completing at least 12 hours of course work for a letter grade. Only grades from the designated semester are included in the Dean's List selection process.
Students earning at least a 3.6 GPA (on a 4.0 scale) in Goshen College's degree completion programs are also included in the list – a significant achievement for working adults taking highly personalized night classes.
Initiated in the fall of 1999, the Dean's List celebrates the achievement of Goshen College students who have met high academic standards and can motivate students preparing for graduate studies, said Ross Peterson-Veatch, Goshen's interim academic dean and vice president for academic affairs.
---
Seniors

Betrice Tinawati
Leah Amstutz
Tina Ashley
Hannah Barg
Caleb Beachy
Christian Bechler
Jared Berkey
Madeline Birky
Ashley Bontrager
Marcos Castillo
Brian Charles
Kate Crawford
Ashley Davenport
Jessica Davila
Karina Flores
Joelle Friesen
Maxwell Heckathorn
Marissa Hochstetler
Christina Hofer

Sarah Hofkamp
Natalie Hubby
David Jantz
Jon Kaasa
Abigail Kaser
Nicole Keenan
Danielle Kerschhackl
Lydia King
Vincent Kurtz
Samantha Langley
Cecilia Lapp Stoltzfus
Philip Longenecker
Hayley Mann
Dean Nafziger
Jared Nussbaum
Peter Paetkau
Jacob Penner


Luis Perez Lerchundi
Peter Reimer
Hannah Sauder
Irene Schmid
Sophia Sears
Benjamin Shelly
Morgan Short
Kelsey Smith
Brian Sutter
Jacob Swartley
Elizabeth Tecca
Wade Troyer
Katelyn Vendrely
Grace Weaver
Malaina Weldy
Carley Wyse
David Zehr

---
Juniors

Kamylle Amburgey
Calla Bartlett
Megan Baumgartner
Jesse Bontreger
Isaiah Breckbill
Brenner Burkholder
Eric Cender
Blake Collins
Ellen Conrad
Anna Cullar
Ariel Culp
Madeline Delp
Mitchell Denlinger
Megan Eigsti
Courtney Featherstone
Karina Flores


Alma Frederick
Isaiah Friesen
Madeline Gerig
Kayla Gray
Sadie Gustafson-Zook
Julian Harnish
John Hershberger
Joseph Kreider
Leah Landes
Emma Liechty
ByeongChan Lim
Joani Lindsay
Kathryn McKinnell
Laura Miller
Lydia Miller


Kang Hyun Moon
Eliana Neufeld Basinger
Evelyn Orellana
Do Won Park
Andrew Pauls
Andrew Snyder
Wendy Sonora Velazquez
Natalie Thorne
Jordan Waidelich
Margaret Weaver
Lauren Wenger
Courtney Wengerd
Peter Wise
Jacob Zehr
Zachary Zimmerman

---
Sophomores

Ana Andriano
Daniel Aramouni
Abby Banning
Clara Beck
Erin Bergen
Kenan Bitikofer
Marie Bontrager
Joshua Bustos
Lena Charles
Joshua Das
Sadie Drescher
Tanner Engle
Marco Fraticelli
Madeline Garber
Joel Gerig
Isaac Godshalk

Christian Grider
Travis Grimm
Lydia Hartman-Keiser
Sarah Hartman-Keiser
Hanna Hochstetler
Madeline Keener
Anja Kenagy
Mark Kreider
Reuben Leatherman
Caleb Liechty
Timothy Litwiller
Jenae Longenecker
Brooke Maes
Natalie Mark

Monica Miller
Eric Oscarson
Kassandra Prentice
Chelsea Risser
John Schrock-Shenk
Katie Shank
Anna Shetler
Valeriya Skorobogatko
Laurie Snider
Kyle Stocksdale
Austin Weaver
Simon Weaver
Aritha Weerasinghe
Benjamin Wiebe
Morgan Yordy

---
Freshmen

Spencer Aeschliman
Diana Astakhov
Sara Azzuni
Erin Bontrager
Anne Buckwalter
Alia Byrd
Joseph Clemens
Sydney Cruz
Annika Detweiler
Hannah Friesen
Zachariah Ganger
Roxanne Gehring
Abigail Graber
Suzanna Griest
Jeremiah Hardy
Jordan Helmuth
Austin Hooley
Chandler Ingle
Rachel Keedy

Lydia Kelsey
Hajin Kim
Cheyenne Lambert
Elsa Lantz
Joshua Liechty
Isaac Longenecker
Carter McKay-Epp
Skye McKinnell
Sandra McMasters
Mariana Messick
Cassidy Miller
Geoffrey Miller
Johan Miller
Rowan Miller
Ryan Miller
Rudin Mucaj
Mary O'Connell


Jessica Raffel
Brooklyn Ries
Meredith Satchwell
Cassandra Sessa
Christine Sessa
Jordan Shields
Drew Stoltzfus
Joseph Stoltzfus
Nicole Trammell
Brittany Vargas
Bridgette Webb
Landon Weldy
Joseph Wheeler
Katie Yoder
Trent Yoder
Trever Yoder
Eric Zurcher

---
Adult and continuing studies students

April Ba
Julie Blimling
Casey Boggs
Timothy Bowers
Kathlyn Carretti
Juan Garcia
Sarah Grebe


Darlene Kennedy
Aaron Krizmanich
Natasha Lindeire
Kimberly Moore
Rachel Renner
Rebecca Riddle


Jessica Rinehart
Julio Rivera
Amy Schense
Nicole Skudlarek
Linda VandenBosch
Regina Yoder

---