Junior Olympic fencer Anja Kenagy finds footing at Goshen College
By Elsa Lantz. This story originally appeared in The Record, Goshen College's student newspaper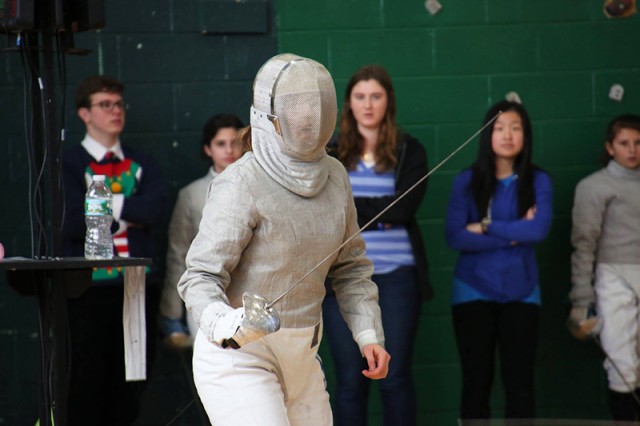 Anja Kenagy may be the only student at Goshen College who had to decide whether or not to pack her swords.
Kenagy is a first-year physics major from Dix Hills, New York, and a competitive fencer. Kenagy has been fencing for four years, since she was a freshman at Half Hollow Hills High School, where she fenced both with her school and in a club, H3 Fencing Institute, in Dix Hills.
"I was looking for a sport to do in high school, and I was basing it off who was in it," she said. "I had made friends in art class who had been fencing on the side, so I decided to join [fencing] with them."
She said she enjoys fencing because "it's a physical workout but also mental, because you have to be strategic."
When she first started fencing, Kenagy said it was not a natural fit.
"What made me stay was that the practices were so hard but I was still motivated," she said. "Once I got into it it felt like a good fit."
There are two national fencing tournaments, the Summer National Tournament and the Junior Olympics, and Kenagy qualified for both, though she qualified for the summer national tournament twice. At the Junior Olympics, Kenagy placed 75th out of 88. At the summer national tournament, she placed 56th out of 100. At a local tournament, the Suffolk County championships, Kenagy came in fourth out of approximately 30 participants in her category.
In fencing, there are three swords: the saber, foil and the epee. Each sword is about two-and-a-half feet long. In order to win a match, fencers must hit the target area of their opponent. In epee fencing the target area is the entire body, while in saber fencing it is anywhere above the waist, and in foil fencing the target area is the vest. Kenagy prefers the sabre.
Since coming to Goshen, Kenagy has put fencing on hold.
"I've worked on footing, but I didn't bring my equipment," said Kenagy. She doesn't plan on bringing her equipment unless a club is formed. She said she does not know of any students who fence, but does know that Jo-Ann Brant, professor of Bible, religion and philosophy, did some fencing at one point.
When Kenagy tells people she fences, she said the usual reaction is "That's so cool!" Often someone will quote a movie that involves fencing, like "The Princess Bride" or "Parent Trap."
"It's painful to watch [fencing in movies] because it's so wrong," said Kenagy. "They're too theatrical. They do a lot of spinning around and using two hands and both of those things are a big no-no. Turning means your head is exposed, which is idiotic and dangerous. And you never use two hands."