WGCS named finalist for Best College Radio Station in the Nation for sixth year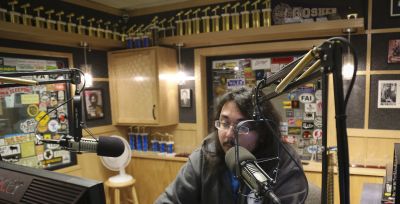 For the sixth consecutive year, Goshen College's student run radio station, 91.1 FM The Globe, (WGCS), is in the running for the Intercollegiate Broadcasting System's (IBS) "Best College Radio Station in the Nation," having won twice (2011 and 2013), the only station in the country to claim the title more than once.
In addition to being named a finalist for "Best College Radio Station in the Nation," WGCS received 11 other individual or station nominations.
Individual finalists include:
• Victor Garcia, a senior communication major from Goshen, and Maria Bischoff, a senior communication and broadcasting double major from Carmel, Indiana, for "Best Community News"
• Victor Garcia, "Best Station Manager"
• Danielle Kerschhackl, a senior broadcasting and American Sign Language double major from Elmwood Park, Illinios, for "Best On-Air Personality"
• Dalton Shetler, a junior broadcasting major from Spencerville, Indiana, for "Best Documentary" and "Best Sports Update"
• Andrew Snyder, a junior broadcasting major from Goshen, for "Best Sports Play-By-Play"
• Berke Beidler, a sophomore broadcasting major from Lancaster, Pennsylvania, for "Best Event Promo"
• Colin Samuel, a first-year broadcasting major from Goshen, for "Best Spot News," "Best Artist Interview" and "Best Live Music Broadcast"
• Quinn Brenneman, from Goshen, for "Best Station Promo"
• The station is also a finalist for "Best Social Media"
"For us to receive all these individual nominations, plus the 'Best Station in the Nation' nomination, is significant," said Jason Samuel, WGCS general manager and assistant professor of communication. "This competition is fierce. Regardless of the size of Goshen College or the size of the field, our students are continually being recognized for their success in radio broadcasting."
The competition attracts thousands of entries in 40 different categories. Finalists are chosen from the top ten percent of all national entries from colleges and universities from across the country. This year a record number of entries were judged, with nearly 80 different stations receiving at least one nomination.
For the first time, GC students from every class – first-year through fifth-year senior – placed as finalists in the IBS competition.
"That speaks to the consistency within the program and the culture of excellence and success," Samuel said. "In the end it all boils down to hard work. There's so much that goes on behind the scenes to create the polished finished product."
National winners will be announced on March 5 at the IBS Awards Ceremony as part of the 76th Annual International IBS Conference at Hotel Pennsylvania in New York City.
WGCS has been on the air since 1958 and is staffed by about 40 student workers and community volunteers. This popular co-curricular activity prepares students to become broadcast professionals while providing a service to the broader Michiana community.