NAIA recognizes 32 Goshen scholar-athletes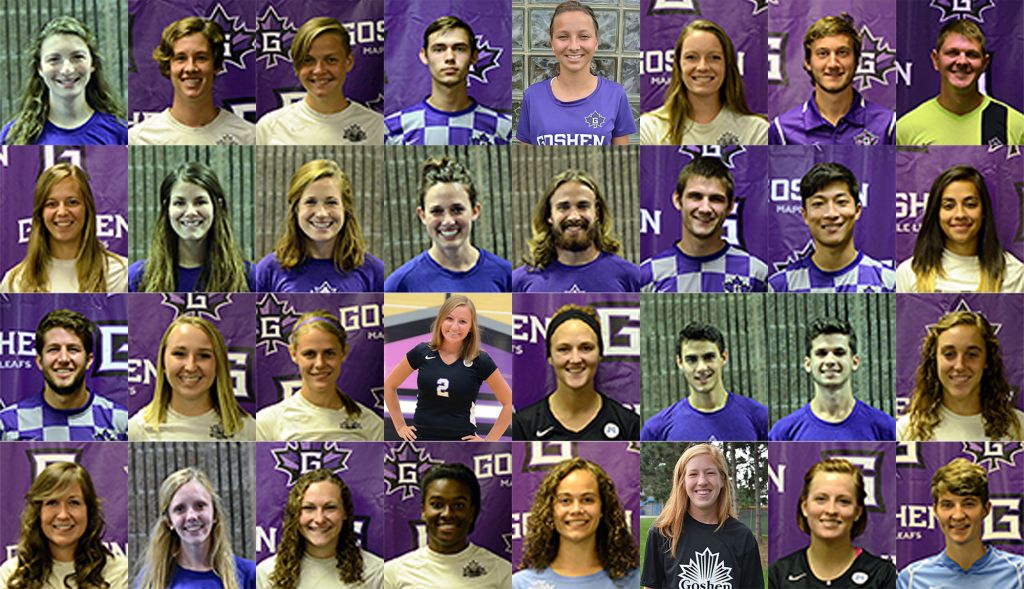 This story originally appeared on goleafs.net

The Goshen College athletic department strives to develop student-athletes athletically, academically, and as individuals of character in the community.
This fall, the Maple Leafs saw another milestone in those efforts: 32 fall student-athletes were named Daktronics-NAIA Scholar-Athletes, the most ever for the Goshen fall sports teams, passing the previous mark of 30 set last fall.
As fall national championships recently wrapped up at multiple sites throughout the country, the academic awards rolled in.  In the previous three-plus years, the Goshen College athletic department has been able to boast an impressive 172 scholar-athletes.
The Goshen women's soccer team had 14 athletes recognized, the most of any school in the NAIA and nine more than it had in 2014. Six men's soccer players earned recognition, one shy of their total from last year.
Nominated by each institution's head coach, a student-athlete must maintain a minimum grade point average of 3.5 on a 4.0 scale and have achieved junior academic status to qualify.
Awards in men's and women's tennis will be announced at the NAIA championships for those sports, held in the spring along with baseball, softball, and track and field.  Basketball honors will be announced at the conclusion of the season in March.
Men's Cross Country (3)
Isaiah Friesen (Filley, Neb.)
Lucas Harnish (Bluffton, Ohio)
Luke Kaufman (Goshen, Ind.)
Women's Cross Country (6)
Hannah Barg (Galena, Ill.)
Grace Boehm (Merriam, Kan.)
Abby Dunn (Auburn, Maine)
Natalie Graber (Stryker, Ohio)
Megan Graves (Goshen, Ind.)
Irene Schmid (Dalton, Ohio)
Men's Soccer (6)
Jared Berkey (Topeka, Ind.)
David Bontrager (Archbold, Ohio)
Jadon Chupp (Elkhart, Ind.)
James Garcia (Gurnee, Ill.)
Dean Nafziger (Hopedale, Ill.)
Chris Vendrely (Flossmoor, Ill.)
​Women's Soccer (14)
Anneliese Baer (Villa Ridge, Mo.)
Gina Berkey (Goshen, Ind.)
Madeline Birky (Goshen, Ind.)
Kate Crawford (Sagamore Hills, Ohio)
Melanie Drinkwater (West Sayville, N.Y.)
Courtney Featherstone (Byron, Mich.)
Claire Frederick (Bloomington, Ind.)
Natalie Thorne (Goshen, Ind.)
Janeth Vela (Goshen, Ind.)
Katelyn Vendrely (Flossmoor, Ill.)
Melia Watkins (Cincinnati, Ohio)
Malaina Weldy (Goshen, Ind.)
Ardys Woodward (Newton, Kan.)
Molly Zook (Chippewa Falls, Ohio)
Volleyball (3)
Natalie Hubby (Pettisville, Ohio)
Kayla Riportella (Des Plaines, Ill.)
Kelsey Smith (Lima, Ohio)