Maple Leaf Athletics to recognize pioneers with field dedication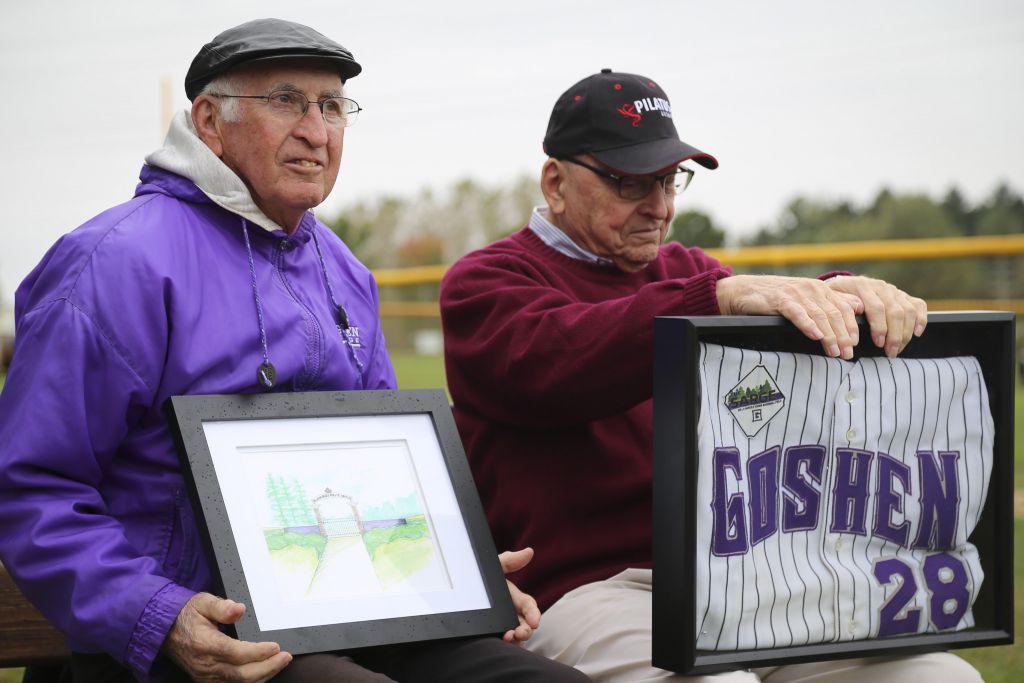 Among the many gifts one can give to benefit college student-athletes, the most valuable is a life.
The Goshen College athletic department is proud to honor two pioneers who dedicated their lives to student-athletes, combining to coach Maple Leaf athletic teams for 120 seasons, with the renaming and dedication of the Dr. John Ingold Athletic Complex and the Dr. J. Harold "Sarge" Yoder Baseball Field.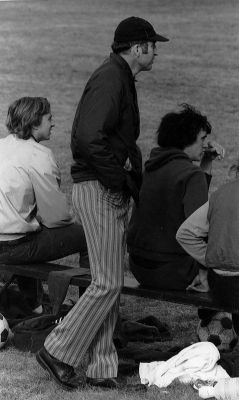 Ingold graduated from Goshen in 1959, where he played on the first Maple Leaf soccer team. He returned to his alma mater in 1964, serving as professor of physical education until 1998 and coaching men's golf as late as 2003. Ingold coached all seven men's sports that the college has offered, including five (cross country, soccer, tennis, golf and track and field) for nine or more seasons. After his retirement, he faithfully drove the college's bus to numerous Maple Leaf athletic events, logging thousands of miles per year until retiring last spring.
Yoder, a 1950 Goshen alumnus, served as professor of physical education from 1955 to 1987. During his tenure, he spent 28 years as coach of the Maple Leaf baseball team, coaching more than 530 games. He also coached men's basketball for five seasons in three stints, men's soccer for two years, and men's tennis from 1976 to 1986.
Ingold and Yoder join two of their former colleagues as namesakes of campus facilities. Goshen's kinesiology, student wellness and intercollegiate athletic programs are based in the Roman Gingerich Recreation-Fitness Center, dedicated in 1994 in memory of Dr. Gingerich, a professor from 1941 to 1985. The basketball and volleyball teams play in Gunden Gymnasium, named for Dr. Ruth Gunden, who taught and coached from 1953 to 1994.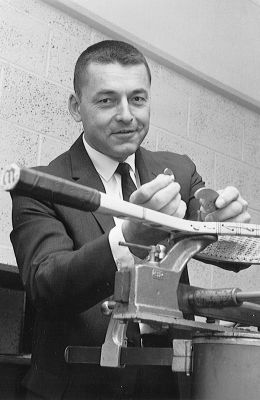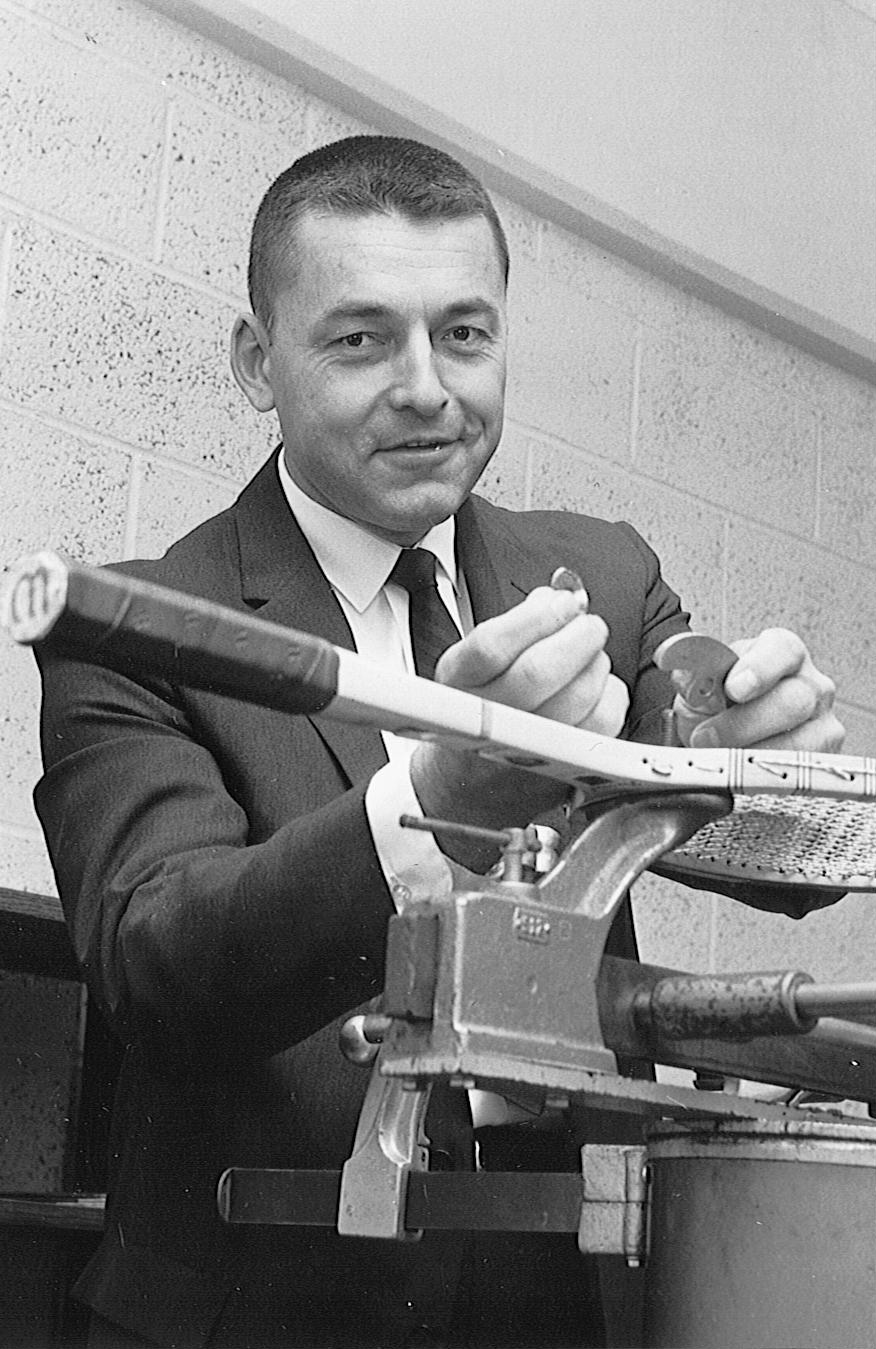 "We are so pleased to have this opportunity to honor two great pioneers in Goshen College athletics," said Athletic Director Josh Gleason. "Along with Ruth Gunden and Roman Gingerich, Dr. Ingold and Dr. Yoder are incredible role models to the decades of coaches, teachers, and mentors who have followed them."
The Maple Leafs Athletic Club (MLAC) will recognize Ingold and Yoder with a gate, between the baseball and softball fields at the entrance to the Goshen College Soccer Complex. Groundbreaking for the gate is scheduled for 1 p.m. on Saturday, Oct. 3, during the college's Homecoming Weekend and preceding the men's soccer game against Taylor University. At noon that day, the MLAC will also host a reception for Ken Pletcher '70 and Alice Gunden Bender '80, this year's Champions of Character award winners, in the Recreation-Fitness Center's turf room.
The entrance gate includes two brick pillars connected by an arch, evoking the entrance to the Goshen College campus that has stood at College Avenue and Eighth Street since the early 20th century, and an eight-foot-wide concrete walkway connecting the parking lots with the soccer, baseball and softball facilities.
"As we look to a bright future, it is important that we also honor the past," said Goshen College President Dr. James E. Brenneman. "There are so many lessons that our student-athletes and staff can learn from the servant leader example of Dr. Ingold and Dr. Yoder. We are hopeful that having their names front and center on these facilities will be a constant reminder of their examples and spur us all on as we follow in the path they forged."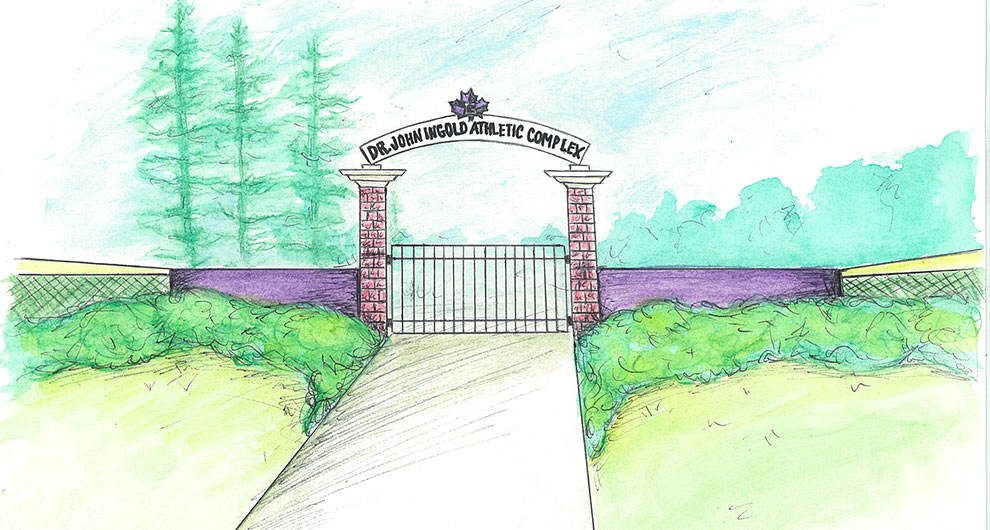 The gate and walkway form Phase I of planned improvements to the athletic complex and are slated for completion in spring 2016. Future phases will include renovations to the baseball dugouts and bleachers, the softball bleachers, and the tennis court surface.
The Maple Leafs Athletic Club will match all funds donated to the gate project. To donate, contact Gleason atjoshag@goshen.edu or (574) 535-7491; mail a check (payable to Goshen College with Athletic Fields in subject line) to Maple Leafs Athletic Club, 1700 S Main St, Goshen, IN 46526; or donate by credit card online at https://www.goshen.edu/give/online/. Online donors should select "Maple Leafs Athletic Club" and enter "Athletic Fields" in the notes box.