John Pizzarelli and Jessica Molaskey to kick off Performing Arts Series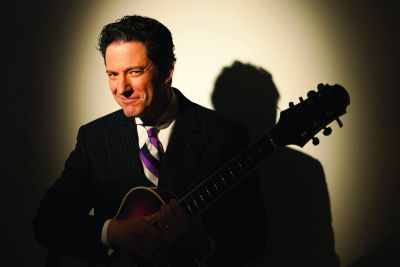 Performing Arts Series: John Pizzarelli with Jessica Molaskey
Date: Friday, Sept. 11, 2015
Time: 7:30 p.m.
Location: Goshen College Music Center's Sauder Concert Hall
Cost: $44, $39 or $25. Buy tickets
Web site: www.johnpizzarelli.com
---
On Friday, Sept. 11 at 7:30 p.m., world-renowned jazz guitarist and singer John Pizzarelli, along with his wife Jessica Molaskey, will open Goshen College's Performing Arts Series for 2015-2016.
With guitar legend Bucky Pizzarelli as his father, it's no surprise Pizzarelli began playing guitar at the age of six. Pizzarelli's sound is heavily influenced by the likes of Nat "King" Cole, Benny Goodman and Les Paul. Though typically a solo performer, Pizzarelli has been a special guest on recordings for big names such as Natalie Cole, Kristin Chenoweth and James Taylor. In 2012, Pizzarelli performed on Paul McCartney's album, "Kisses on the Bottom," and performed alongside him at the Grammy Awards in Los Angeles.
Pizzarelli's debut album as a solo musician, "I'm Hip (Please Don't Tell My Father)," was released in May of 1983. In 1999, Pizzarelli signed with Grammy-Award winning label Telarc International and released the album "Kisses in the Rain." Pizzarelli collaborated with George Shearing on his 2002 album "The Rare Delight of You" and in 2004 his album "Bossa Nova" introduced a new generation to the distinctive Latin rhythms.
In addition to being a prolific musician, Pizzzarelli is also a veteran radio personality. He hosted "New York Tonight" on the Washington D.C. radio station WNEW from 1984 to 1988. In 2005, he launched "Radio Deluxe with John Pizzarelli," his nationally syndicated radio program co-hosted with Molaskey.
Having performed for some of the country's most popular television shows such as "The Tonight Show with Jay Leno," "The Late Show with David Letterman" and "Late Night with Jimmy Fallon," and in venues such as Radio City Music Hall, Sauder Concert Hall is in for a treat with this performance from what the San Francisco Chronicle named as "the First Family of Cool."
In Pizzarelli's latest album, "Double Exposure," released May of 2012, he has chosen to focus on two distinct styles—a collection of tunes by some of the great pop songwriters of his generation framed within traditional jazz arrangements.
Pizzarelli performs regularly with Molaskey and with his jazz combo. He tours throughout the United States, Europe, South America and Japan, setting standards for modern jazz while also performing classic pop songs and covers of tunes that audiences will find familiar.
Called "madly creative" by the L.A. Times, John Pizzarelli will be sure to lure in the music-loving Goshen community.
Upcoming concerts in the 2015-16 Performing Arts Series: