2015 Goshen College summer sports camps offer opportunities for youth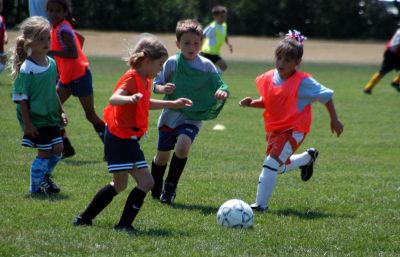 From soccer to basketball to sports writing, Goshen College offers a number of summer sports camp opportunities for kids three years old through high school.
Soccer camps for boys and girls – June 15-19, 2015
The Goshen College men's and women's soccer programs are happy to announce the return of the Goshen College soccer camps for boys and girls ages 3-14, set for June 15-19 at the Goshen College soccer complex.
The camps, directed by women's head coach Scott Gloden and men's head coach Arron Patrick, are built on the elements of fun, technique, tactics, repetitions and a low player-to-coach ratio. Gloden and Patrick will teach a variety of techniques and skill development, all appropriate to the age and skill level of the player.
The camps will run from 4 to 5 p.m. daily for ages 3-5, 9 a.m. to noon for ages 5-7, and 9 a.m. to 4 p.m. for ages 8-14. In case of inclement weather, the camp may continue inside the Roman Gingerich Recreation-Fitness Center.
All campers will receive a Goshen College Soccer Camp T-shirt, but should bring their own soccer ball, shin guards, sunscreen and other soccer equipment. Campers in the 8-14 age group should also bring their own lunches and campers in the 5-7 age group should bring a snack, except on Friday when pizza will be provided to both groups.
Campers who register by May 15 will receive a $5 discount; the fee will be discounted by $10 for the second child from a family and $20 for children of GC faculty and staff.
Click here to register for the Goshen College Soccer Camp, or visit www.goleafs.net for more information.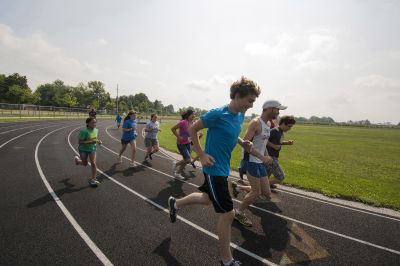 Write On Sports Camp – July 6-17, 2015
The third annual Write On Sports camp runs from July 6-17 at Goshen College. In partnership with the national Write on Sports program, Goshen Community Schools and the Goshen College Communication Department, the camp for middle school students teaches writing skills by harnessing their love for sports.
During the camp, students will interview athletes, including Justin Gillette, a Goshen marathoner who ranks sixth in the world in total victories. Students will also learn interviewing techniques from journalists with The Goshen News, NewsCenter 16 (NBC) and The Elkhart Truth.
Field trips include a visit to the University of Notre Dame, WNDU-TV studios and a South Bend Cubs game, where students will have a chance to interview team members before the game.
Students will write sports stories and create videos during the two weeks; their work will be published online at www.goshen.edu/writeonsports and in a camp magazine.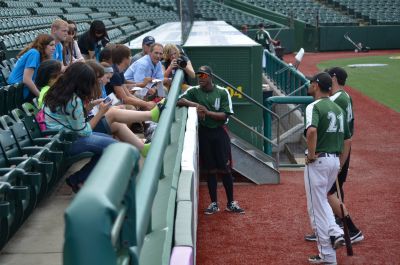 The camp is free, with scholarships made possible by the Windward Foundation, The United Way of Elkhart County, Maple Leafs Athletic Club, Mutual Bank, Goshen Kiwanis Club, and from Write on Sports-Goshen's generous donors.
For more information or to apply, call (574) 535-7881 or write to events@goshen.edu. The Goshen camp is a partnership of Goshen College and Goshen Community Schools and is an extension of the Write on Sports organization, based in New Jersey. Students who live in other school districts are also invited to apply. Early application deadline is June 3.
Byron Yake, a former national sports editor with the Associated Press and a 1971 Goshen College graduate, established the program in 2006. The Goshen camp was the first Write on Sports camp launched outside of New Jersey.
Several scholarships remain to be awarded, on a first-come-first-served basis.
Basketball camps
The Goshen College men's and women's basketball teams will host five developmental camps and shootouts in the summer of 2015, led by men's coach Neal Young and women's coach Stephanie Miller.
The Maple Leaf women will host the Maple Leaf Summer Hoopfest on June 12-13. High school teams of any level will be guaranteed at least three games each day against balanced competition, helping them develop and prepare as individual players and teams. Teams can register for one or both days. Overnight accommodations are available upon request. The entry fee is $175 per team per day, dropping to $150 per team per day if a school enters both varsity and J.V. teams or if a team enters both days. Click here for more information on the Maple Leaf Summer Hoopfest.
A week later, on Friday and Saturday, June 19-20, the men will host their annual Junior High Team Camp for 7th-9th grades. Teams will play a minimum of seven games over the two-day span against teams in the same age brackets. Teams can include players from multiple grade levels, but must play in the upper grade level. Costs range from $80 per camper for commuter campers to $135 per camper including a room and full meals. Click here to register for the Junior High Team Camp.
Later that same weekend, the men will host their J.V./Varsity Shootout on Sunday, June 21. The shootout includes a guarantee of three games per team with licensed referees. In addition, former NCAA Division I assistant coach Jon Tropf will give a chalk talk for coaches on the finer points of the 2-3 zone. Varsity teams can enter for $100, with J.V. teams registering for $75; the total coast drops to $150 for a school that enters two teams. Click here to register for the J.V./Varsity Shootout.
The Goshen College Classic, set for Tuesday, June 23, offers high school girls teams a chance to compete against teams from different areas, leagues, regions or states. Each team will play three games as well as compete in a four-minute overtime tournament to experience close game ending scenarios. High school (varsity and junior varsity/freshmen) teams are all welcome and will compete within two divisions based on their competitive levels. Overnight accommodations are available upon request. Click here for more information on the Goshen College Classic.
Finally, the men will host an elite camp for individuals on Saturday, Aug. 1. Spots in the elite camp can be reserved for $75 per person. The cost includes lunch and a T-shirt. Head coach Neal Young, the lead recruiter for every NCAA Division I transfer in the history of GC men's basketball, will also offer a free seminar for parents titled "Navigating The Recruiting Process Like A Pro: Things Parents Need To Know." Click here to register for the Elite Camp.