Award-winning organist to perform on Goshen College's Taylor & Boody pipe organ April 19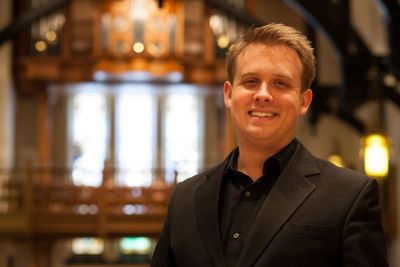 Event: Rieth Chamber Series – Simon Thomas Jacobs, organist
Date and time: Sunday, April 19, 2015, 4 p.m.
Venue: Goshen College Music Center's Sauder Concert Hall
Tickets: $15 general admission. Available online at goshen.edu/tickets or (574) 535-7566.
Award-winning organist Simon Thomas Jacobs will present a recital of organ works on the Goshen College Music Center's Taylor & Boody Pipe organ on Sunday, April 19, 2015. Part of the 2014-15 Rieth Chamber Series, the recital will begin at 4 p.m. in Rieth Recital Hall.
Jacobs was the 2013 first prizewinner of the prestigious St. Alban's International Organ Competition. His program will feature organ works by Bach, Sweelinck, Gibbons, Weckmann, Peter Philips and 20th century composer Jacques van Oortmerssen.
Tickets are $10 for general admission seats, available online at goshen.edu/tickets or by calling the Goshen College Welcome Center at (574) 535-7566. Goshen College students are admitted free with ID. Seating is limited.
A native of Great Britain, Simon Thomas Jacobs spent a year as organ scholar at All Saints' Margaret Street – an historic Anglo-Catholic parish in London's West End – before taking up the position of organ scholar at Clare College, University of Cambridge, where he graduated with an honors degree in music in June 2009. Performance highlights with the choir included concerts as part of the Salzburg Music Festival, Munich Opera Festival and the London, Innsbruck and Potsdam Early Music Festivals, as well as several commercial CD recordings.
Upon graduation, Simon took up the post of associate director of music at Christ Church, Greenwich, Connecticut, and in 2011 became associate organist and choirmaster at Christ Church Cathedral, Indianapolis. Most recently, he completed an Artist's Diploma at Oberlin College, where he studied with James David Christie.
As winner of St. Albans, Simon will perform recitals at some of the world's most esteemed concert venues: Notre Dame de Paris; King's College, Cambridge; St. Albans Cathedral; Christ Church Cathedral, Oxford; St Giles' Cathedral, Edinburgh; Ste Croix, Bordeaux; Galway Cathedral; and the International Performing Arts Center in Moscow. He will also record his first solo disc as part of Priory's "Great European Organs" series this summer.
The Rieth Chamber Series features six concerts by outstanding organists and chamber music ensembles including the Telegraph Quartet, Spektral Quartet and St. Alban's Organ Competition winner Simon Thomas Jacobs, plus a bonus concert with reception for series subscribers only. Music Center Executive Director Marcia Yost explains that series supporters "provide support for ongoing, accessible classical chamber music at Goshen College, as well as aid in establishing a reputation with performing artists for appreciative Music Center audiences." More information about this series is online at www.gcmusiccenter.org/concerts/riethseries.