Annual EARTHTONES concert offers mosaic of musical cultures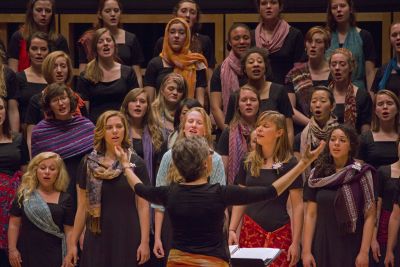 Concert: Goshen College Choirs present "EARTHTONES: Songs from Many Cultures"
Date and time: Saturday, April 11 at 7:30 p.m.
Location: Goshen College Music Center's Sauder Concert Hall
Cost: $10 for adults, $7 for students/seniors, available online at www.goshen.edu/tickets or by contacting the Welcome Center at (574) 535-7566 or welcomecenter@goshen.edu. GC faculty/staff/students free with ID.
---
This event will be streamed live.
---
Goshen College choirs will present a mosaic of musical offerings during the 11th annual EARTHTONES choral concert on Saturday, April 11 at 7:30 p.m. in the Goshen College Music Center's Sauder Concert Hall.
Performing are the Goshen College Chamber Choir, Men's Chorus and Women's World Music Choir. The EARTHTONES program will feature choral works in many languages from a wide variety of composers, cultures and countries, including works from Bosnia, Ecuador, Finland, Iceland, India, Peru, South Africa, Tanzania and more.
The choirs will perform individually and as a joint chorus, and will include dance and movement as part of the music. During the concert, the choirs will also recognize graduating senior choir members.
Drawing from powerful melodies of almost every continent, EARTHTONES promises to provide a concert of color and vitality in a celebration of world music.
The Goshen College Choirs are directed by choral professors Dr. Debra Detwiler Brubaker and Dr. Scott Hochstetler.
Brubaker is professor of music at Goshen College, where she teaches in the areas of vocal and choral music. She holds a doctorate of music degree from the University of Kansas, a master's degree in music from the University of Northern Colorado and an undergraduate degree in music from Goshen College. Since coming to Goshen in 1999, Brubaker has directed the Goshen College Chorale and Chamber Choir and created the Women's World Music Choir. She and her choirs have collaborated and performed with such noted conductors as Alice Parker, Vance George, Donald Neuen, Gregg Smith and Augusta Read Thomas. Brubaker was assistant professor of music at Bluffton College (Ohio) for ten years, and has also taught choir in public schools in Indiana and Colorado. A focus of Brubaker's research and teaching explores how the use of singing can become a catalyst for connection between people of differing cultures, faiths and circumstances, also highlighting the role of women as creators and sustainers of art and culture.
Hochstetler is associate professor of music at Goshen College, where he teaches in the vocal, choral and opera theater programs. He is also the director of the St. Joseph Valley Camerata, an area professional choir. Hochstetler holds a doctorate in choral conducting from Michigan State University, a double master's degree in conducting and voice from the University of Michigan, and a bachelor's degree in music and biology from Goshen College. Previous appointments include Western Mennonite School (Ore.), the University of Michigan – Flint, and Corban College (Ore.). As a scholar, his work on Vaughan Williams has been published by The Choral Journal, and he is the co-author of the IPA Pronunciation Guide to Translations and Annotations of Choral Repertoire, German Texts. As a baritone, he has performed opera and oratorio roles and given recitals in Indiana, Michigan and Oregon.
General admission tickets are $10 adults, $7 seniors/students, available online at www.goshen.edu/tickets or via the Goshen College Welcome Center at (574) 535-7566. Goshen College faculty, staff and students are free with valid ID.